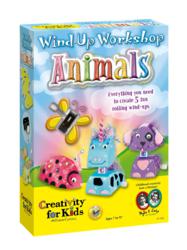 Cleveland, OH (Vocus/PRWEB) February 14, 2011
Creativity for Kids product developers are always on the lookout for unique and cool craft projects for kids to do. In 2011 the company is introducing an amazing assortment of products to inspire children to express their natural creativity.
Based on the overwhelming success in 2010 of Wind-Up Workshop Robots(a kit that won 6 awards!), Creativity for Kids is excited to add a new kit to the line called Wind-Up Workshop Animals. Put together colorful cardboard cut-outs to create a set of whimsical animals. Use markers to draw designs on the animals, and add fuzzy stickers and wiggly eyes too. Insert the wind-up mechanisms and enjoy watching your animals move about. $14.99, age 7 & up
Kids can craft their own optical effects with a kaleidoscope they build themselves. The Make Your Own Kaleidoscope kit includes everything needed to make a 7 5/8" kaleidoscope. Decorate the kaleidoscope with markers. The refillable chamber lets kids change what they view with a variety of vellum paper designs and other colorful items. $12.99, age 5 & up
Enjoy a bit of science and have a lot of fun setting up an aquatic environment with Growing Crystals Undersea World. Put the liquid crystal solution in the tray and then watch the crystals grow like magic. A paper coral reef and color-in fish stickers with markers to enhance the undersea look of the aquatic backdrop. $12.99, age 8 & up
3-D is a cool effect, so enjoy creating glittery window art, 3-D creations, and more with the Sparkling 3-D Paint Activity Kit. Trace designs using the black and silver outline paint, then fill them in with 8 colors of sparkling paint. Make the designs pop with 3-D wiggly eyes and rhinestones. Pattern sheets are included to guide kids in making a trinket box, ornaments, jewelry, window art and more. $21.99, age 6 & up
Fuzzy Bead Fun is a classic craft with a fabulous fuzzy twist! Weave pony beads onto colorful satin cord, and add fuzzy beads as accents to create cute key chains. There are hundreds of beads and plenty of patterns to follow to make 10 fuzzy key chains. Backpack clips and key rings included. $14.99, age 6 & up
With the positive response to our previous vehicle themed kits for boys, Creativity for Kids offers 3 new cool craft kits for boys. Paint and Play Cement Mixer has a chunky wooden cement truck for kids to decorate with paint and 3-D accent stickers. The cement mixer features moveable parts as part of the play experience. The triangle shaped paint brush handles are easy for younger crafters to hold – bonus craft apron included.
$14.99, age 4 & up
Paint and Play Loader is a chunky wooden front-end loader with moving parts for kids to paint and play with. Add 3-D sticker accents on the loader. The triangle shaped paint brush handles are easy for younger crafters to hold – bonus craft apron included.
$14.99, age 4 & up
Construct, paint, and decorate a 3-D robot with the Color Changing Robot Light kit. The 7" tall robot is made of durable plastic – add translucent paint and dimensional stickers. Then flip the switch and watch the light show! The LED lights are battery operated and safe for kids (uses 2 AA batteries not included).
$17.99, age 7 & up
All Creativity for Kids products are fully compliant with current U.S. toy safety standards.
2011 is a milestone year for our company as we celebrate 35 years of Creativity for Kids! We are proud to consistently provide a quality experience in all areas of business, particularly in developing innovative, high quality arts & crafts products for children. Our products are available all over the world, giving children the opportunity to create, pretend, and play in ways that encourage self-expression and build self-esteem.
# # #