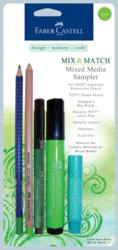 Cleveland, Ohio (PRWEB) April 21, 2011
Faber-Castell is excited to issue its first design challenge in honor of Earth Day 2011. Show our beautiful planet some love by creating upcycled mixed media craft projects! Use some pieces that might otherwise get tossed out in the trash, and give them new life as an upcycled item by combining them with your favorite Design Memory Craft Mix & Match products.
To participate in the design challenge, post projects on the Faber-Castell Design Memory Craft facebook page at http://www.facebook.com/DesignMemoryCraft by May 1, 2011. Be sure to mention which Mix & Match products were used for the project. The company will select 10 winners to receive a Mix & Match Ink & Aquarelles set. (open to U.S. residents only)
Designed around a MIX & MATCH concept, these new assortments make crafting with color simple yet inspirational. Mixed media crafters at all skill levels can enjoy using these pre-selected color palettes. Mix & Match makes it easy to learn new techniques, explore with mixed media, and take Design Memory Craft projects to the next level. Rich with pigments and available in a wide array of colors, Faber-Castell's quality products provide the best crafting experience.
Faber-Castell recognizes the importance of preserving natural resources for future generations and in that regard launched a forest project in Brazil 25 years ago to use reforested wood in the production of its children's EcoPencils and the Art GRIP Aquarelle pencils in the design memory craft line. The forests have been certified by the Forest Stewardship Council (FSC), a warranty that the project is "environmentally appropriate, socially beneficial, and economically viable". In addition, Faber-Castell has worked over the past 3 years to reduce carbon emissions through the use of regenerative energies.
There's more information and inspiration about these products on our website at http://www.designmemorycraft.com. And make sure to check out our blog full of craft ideas and techniques.
Faber-Castell is one of the world's leading manufacturers of fine artist materials. Founded in 1761, the company is celebrating its 250th Anniversary in 2011. Our graphite, color and watercolor pencils, charcoals, artist pens, oil pastels and more offer unlimited opportunities for creative expression and design. The Art & Graphic line features the absolute finest professional art materials, while the Creative Studio® line contains products for students and aspiring artists.
###