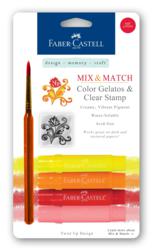 Cleveland, OH (Vocus/PRWEB) January 31, 2011
Faber-Castell is delighted to introduce an engaging new product line for crafters called design memory craft. Thoughtfully designed around a MIX & MATCH concept, these new assortments make crafting with color simple yet inspirational. Choose a color palette, choose a medium, then Mix & Match as you create. The coordinated combinations give you the freedom to design projects with confidence, knowing that the colors and mediums will work beautifully together.
Mix & Match Gelatos are a dynamic new medium of creamy color sticks conveniently cased in a plastic tube so they're mess-free to use. These acid-free sticks are loaded with pigment so bright colors glide smoothly and opaquely onto paper. Gelatos work great on all types of paper, but are especially effective and vivid on textured and dark papers. The colors are easy to blend, and can also be dissolved with water to create watercolor effects.
Try traditional stamping with Gelatos, or apply color then use a stamp to remove some of color and reveal the design. Gelatos are available in 3 color palettes – Red/Yellow (red, pink, yellow, orange), Blue/Green (blue, light blue, green, light green), and Neutrals (white, flesh, ochre, brown) – each also includes a paintbrush and stamp. The suggested retail price is $9.95 per set.
A Black/White set plus paintbrush and stamp is available for $3.95. Great to blend with the other color palettes to create more shades, or use on their own for contrast.
Mix & Match Metallic Gelatos offer the same luscious creamy color but with some sparkle for shimmering effects. Use to accent other colors, or beautiful on their own. Two sets are available – one with 4 Metallic Gelatos in Rose, Violet, Blue, and Teal plus a paintbrush and stamp for $9.95, and a set with 2 Metallic Gelatos in Gold and Silver for $3.95.
Join us on a creative journey at http://www.designmemorycraft.com. The site features projects, techniques, and community events around the country – and make sure to check out our blog full of cool crafting information, plus the video gallery to see projects other crafters have done using Faber-Castell products.
# # #