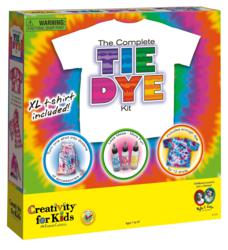 Cleveland, Ohio (Vocus/PRWEB) March 14, 2011
Winter blahs taking their toll? Then it's time to Think Spring and enjoy some great creative activity projects from Creativity for Kids.
Our product developers are already thinking warmth and sunshine with the new Flip Flop Fashions kit. Girls love flip flops and can decorate their own pair with Flip Flop Fashions. The kit includes two pairs – one small, one medium – for different size feet. Done in cheetah and zebra designs, add rhinestones, roses, ribbons, and other embellishments to reflect your style. Then step out and show off your custom flip flops. $21.99, age 5 & up
To get their feet ready for those flip flops, girls can slip into the soothing scene of a salon with Pretty Pedicure Salon and feel great down to your toes. There's an inflatable pink pool to soak your feet in with confetti soap, then buff and file your nails so they're ready for polishing. The kit includes 3 colors of nail polish (including French white), nail art and rhinestones. Keep everything neat for your feet with a toe separator and spa slippers. $25.99, age 9 & up
Girls can make an assortment of island-inspired hair accessories with Fabulous Flowers Hair Accessories to wear and share with friends. Draw accents and designs on the foam flowers with markers, then add rhinestones, crystals, and glitter gel for sparkle. Attach the flowers to a headband, hair clips, and elastic pony tail holders, and wear your creations out and about. $17.99, age 5 & up
Doing tie dye has been popular for decades and now today's kids can use The Complete Tie Dye Kit to create one-of-a-kind tie dye fashions. Easy-squeeze bottles contain pre-measured dye to minimize the mess – just add water. We also include a craft apron, craft gloves, and table cover. Do tie dye on shirts, purses, and more. There's an XL t-shirt inside that you can turn into other fun projects using the stencil, fabric marker, needle, and embroidery thread in the kit. $24.99, age 7 & up
As the weather warms, try some nature based crafting with the Flower Press & Nature Cards kit. This complete set features a wooden flower press to create nature inspired greeting cards, bookmarks, and gift tags. No screws or tools are required to use the flower press – put the flowers or leaves inside with the paper, then secure the press with the Velcro straps to make your designs. Use watercolor paint and ribbon to accent your paper crafts. $14.99, age 6 & up
Play and pretend with the company's newest eco-friendly kit, Recycled Cardboard Zoo. This cleverly designed set includes everything kids need to play and pretend zoo. Made out of recycled cardboard, the easy-to-assemble zoo has an entrance arch, animal enclosures, punch out animals and people plus other zoo-themed accessories. Even the packaging becomes part of the experience as the inside of the box turns into a play area. Once the zoo is constructed, decorate it with markers and stickers kids color in themselves. This kit encourages kids to "go green" and re-purpose items from around the house for fun accessories. Then have fun playing and pretending with a custom designed zoo! $29.99, age 4 & up
Shrinky Dinks® are ever popular, and now girls can tranform a pop-up garden into a fun fairy hideaway with the Shrinky Dinks® Fairy Garden kit. Use Faber-Castell® Colored EcoPencils to color in the pre-cut Shrinky Dinks® with fairy, flowers, and forest friends designs. Add glitter glue accents. Then decorate the garden playscape with the charms and have fun playing and pretending in this fairy world. $19.99, age 7 & up
2011 is a milestone year as we celebrate 35 years of Creativity for Kids! We are proud to consistently provide a quality experience in all areas of business, particularly in developing innovative, high quality arts & crafts products for children. Our products are available all over the world, giving children the opportunity to create, pretend, and play in ways that encourage self-expression and build self-esteem. All Creativity for Kids products are fully compliant with current U.S. toy safety standards.
# # #