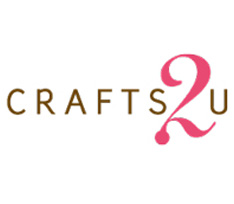 Crafters typically love to share, so it was a no-brainer for us to choose Pinterest to engage our current customers, states Ryan Taggart, Sales and Marketing for Crafts2u
Baltimore, MD (PRWEB) November 27, 2012
Crafts2u.com, an online crafts superstore with over 100,000 arts and crafting products, announced they have launched a Pin-2-Win contest on the virtual pinboard site, Pinterest. The contest will give away a $200 shopping spree every month by encouraging crafts enthusiasts to 'Pin' their favorite Crafts2u products onto their personalized Pinterest boards.
Pinterest, a social photo sharing website was originally created to cater towards the Do-It-Yourself crafting community. User engagements often consist of sharing ideas, projects and hobbies through personalized 'Pin It' boards. "Pinterest has grown from roughly 1 million users in July 2011 to more than 20 million today" states, Aaron Pragnell of Forbes.
The goal of the Crafts2u Pin-2-Win contest is to increase awareness and drive traffic by rewarding one lucky "Pinner" each month with a $200 shopping spree. Contestants are encouraged to 'Pin' Crafts2u products to Pinterest in exchange for an entry into the Pin-2-Win monthly drawing. Additionally, crafting enthusiasts can increase their chances of winning by "Pinning" Crafts2u products to their Pinterest boards as often as they like. The contest is aimed at building a community to make it easier for crafters to find and share products while driving traffic back to Crafts2.com.
"Crafters typically love to share, so it was a no-brainer for us to choose Pinterest to engage our current customers AND be able to reach a whole new customer base", says Ryan Taggart, Sales and Marketing for Crafts2u. "By seeing what products our customers are buying and using will help us deliver more targeted product selections which, in the end, will help us reach our overall growth objectives."
About Crafts2u.com
Crafts2u.com is an online arts and crafts store that offers an abundance of arts, toys, knitting and crafts supplies from hundreds of specialty and discount suppliers. Striving to bring its customers fun and exciting new products, Crafts2u.com offers only high quality products at the lowest market prices available.