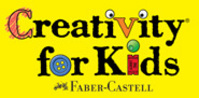 Cleveland, OH (Vocus) May 26, 2010
Creativity for Kids is delighted to announce that 9 products have received Gold Seal awards from Oppenheim Toy Portfolio. The Gold Seals were awarded to 4 preschool craft kits, 3 paper & memory crafts and 2 fun activities. The award winning craft products include Crayon Rubbings, My First Scissors Kit, Pop-Up Scrapbook and more.
Four new kits in the Preschool line received Gold Seal recognition:
The My First Scissors kit encourages kids to practice fine motor skills while cutting out paper patterns using safe and simple scissors with an ergonomic design developed for little hands. The scissors are made for right and left-handed use, and have a rounded tip and blade. Special window packaging allows you to test the scissors in store. Once kids cut out the paper patterns, then they can turn the shapes into abstract art and amazing animals using a glue stick. Wiggly eyes are included for the animals. Ten mounting boards are in the kit to make it easy to display their artwork.
Discover the magic of texture and color with Crayon Rubbings. This kit contains 15 premium Faber-Castell Jumbo Crayons for kids to make colorful rubbings with. The crayons come without a paper wrapper, so they are ready for little hands to use, and their jumbo size makes them easy for little hands to hold. There's a coloring tray plus five rubbing plates and two kinds of paper – 20 sheets of printed paper, and 20 sheets of blank paper – so kids can make a variety of different designs.
Cardboard Racer is a simple-to-construct racer car provides hours of foot-powered fun. Decorate your car with star and flame stickers and other details such as a vanity plate. The sturdy double-walled cardboard racer includes door handles and a trunk to store your stuff. Have fun racing around your house, backyard, and playground.
Make a simple-to-construct Cardboard Coupe and then enjoy hours of food-powered fun. Decorate your coupe with flower and heart stickers and other details such as a vanity plate. The sturdy double-walled cardboard racer includes door handles and a trunk to store your stuff. Have fun racing around your house, backyard, and playground.
And three new Paper & Memory Crafts kits also received Gold Seal awards:
Create Your Own 3 Bitty Books comes with 3 blank hardcover books to write stories in, then use stickers and markers to add designs that complement the words. Add photographs for a personal touch. Each book is 4" x 5" and has 12 pages, plus there's a book holder included to store the books in.
Put your memories into motion with Pop-Up Scrapbook. Design 14 scrapbook pages featuring fun pop-up elements and photographs of you and all the fun you have with friends and family. Add accents with colorful paper, stickers, rhinestones, markers and more. The hardcover scrapbook is 9" x 11 ½" with a photo frame front and elastic loop closure.
Express "I Love You" for Valentine's Day and throughout the year with sweet cards embellished with genuine Shrinky Dinks charms. Shrinky Dinks I Heart You Cards contains 12 cards to decorate. The cards come in three colors – pink, purple, and blue – with openings on the front to show the Shrinky Dinks charms. Color in the love-themed Shrinky Dinks charms with colored pencils, then bake and shrink them in an oven. Add the Shrinky Dinks charms and decorative ribbons to the cards and write a sweet message inside for a special someone.
Plus two more kits were selected as fun activities:
Anything little is definitely cute, so have fun learning watercolor art with Do Art Petite Paintings. Use watercolor markers on five miniature artist canvasses to create petite paintings in any style you like. The set also includes a paintbrush to turn your marker drawings into watercolor art, embossed cardboard frames, and a wooden easel to display one of your masterpieces. There are hanging tabs too to showcase your work around your home. Each canvas is 2" x 2 ¾".
The Designer Doggie kit appreciates that every diva dog deserves a designer purse to be carried around in. Decorate this purse for your special stuffed dog using peel and stick felt shapes in hearts, bones, paw prints and more. Then accessorize your dog with a velvet collar and cape, satin bows, dog bone name tag, and a satin leash, and the two of you are ready for a stroll around town.
For more information, go to http://www.creativityforkids.com.
All Creativity for Kids products are fully compliant with current U.S. toy safety standards.
Creativity for Kids has provided imaginative, high quality, innovative craft kits for kids for more than 30 years. Today our products are available all over the world, giving children the opportunity to create, pretend, and play in ways that encourage self-expression.
###