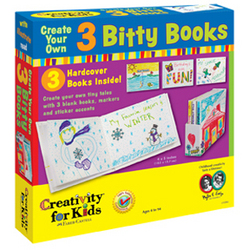 Cleveland, OH (Vocus) October 26, 2010
Creativity for Kids is excited to announce that three craft kits received a Platinum Award from Oppenheim Toy Portfolio. This is the highest award given by this organization to recognize outstanding products in the marketplace. Each product is carefully considered and tested by educators, parents, and kids to determine which provide enriching and engaging play experiences for children. The review process aims to discover products that are entertaining and encourage learning, plus are well designed and safe for children to use.
And the 2010 Platinum Award goes to:
Create Your Own 3 Bitty Books comes with 3 blank hardcover books to write stories in, and then use stickers and markers to add pictures that illustrate the words. Add photographs for a personal touch. Each book is 4" x 5" and has 12 pages, plus there's a book holder included for storing the books. ($9.99, age 4 & up)
Pop-Up Scrapbook features fun pop-ups to put your photographs and memories in motion. Create 14 scrapbook pages using colorful paper, stickers, rhinestones, and punch-out embellishments. Add captions and draw designs with markers. Your photographs of family, friends, and activities add the personal touch! The hardcover scrapbook is 9" x 11 ½" and includes a photo frame on the front. ($24.99, age 7 & up)
Here's a really cool tree to make to hold your jewelry. Felt Fashions Jewelry Tree comes with a wooden tree covered in white and blue flocking that's easy to assemble. Add a retro peace dove to decorate the top of the tree. Then make some fabulous felt jewelry to wear and later display on the Jewelry Tree – there are enough materials to design 2 bracelets, 2 necklaces, and a pair of earrings. ($19.99, age 6 & up)
All Creativity for Kids products are fully compliant with current U.S. toy safety standards.
Creativity for Kids has provided imaginative, high quality, innovative creative activity products for children for more than 30 years. Today our products are available all over the world, giving children the opportunity to create, pretend, and play in imaginative ways that encourage self-expression.
###