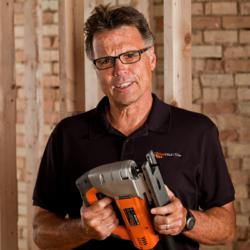 Grand Rapids, MI (PRWEB) May 12, 2012
Craftsman Tools released the new C3 19.2-volt 3/8" cordless impact wrench, and ToolSelect put it in the hands of DIY tool tester Kurt Dufendach, who had an overall positive experience with the tool, giving it an overall rating of 4.5 stars out of five.
The cordless impact wrench was designed to be used by mechanics, and uses a more compact design than Craftsman's ½" impact wrench to let users get into tighter spaces. An anvil-retention ring helps with secure socket connections while the 19.2-volt variable-speed motor lets users operate the tool between 0 and 2,500 RPM and up to 3,500 impacts per minute.
"The first thing I did with the tool was take apart one of my motorcycles," says Dufendach, who fixes motorcycles as a hobby. "The tool had a lot of power and sped the job up significantly."
Dufendach also used the tool to put up some backpaneling while working on his fireplace. He notes the tool was able to drive lag bolts well, however the battery drained fairly quickly. When working on his motorcycles, though, Dufendach says the battery lasts a very long time.
The tool comes with a 19.2-volt NiCd battery and a one-hour charger and is covered by a Craftsman one-year limited warranty.
Dufendach rated the Craftsman cordless impact wrench four stars out of five in relation to performance and design, and five out of five stars in both quality and value, for an overall rating of 4.5 stars.
"Our video tool reviews are not surprisingly one of the most important parts of the ToolSelect community," says Gerry Barnaby, Director of Excitement with ToolSelect. "Kurt tried out this particular impact wrench with mechanical applications, which is what Craftsman built the tool to do, and he also took it further and tested the limits of the tool with large lags. The result is a detailed, trustworthy review to help our members make smart purchasing decisions."
All tool testers with ToolSelect.com are given a tool for a period of time long enough to get an accurate assessment of the pros and cons of the tool, but do not receive any monetary compensation from ToolSelect nor the manufacturer of the tool. As such, every tool review on ToolSelectTV is unbiased and genuine.
About ToolSelect
ToolSelect is an unbiased community powered by its members that covers all aspects, types and brands of tools, but does not actually sell any tools. ToolSelect's members include everyone from experienced tradesmen to complete novices. Users trade tips, compare notes, debate their favorite tools and work together to help each other make intelligent purchasing decisions.
Like ToolSelect on Facebook (ToolSelect)
Subscribe to ToolSelect on YouTube (toolselecttv)
Follow ToolSelect on Twitter (toolselectmedia)