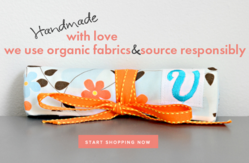 Creating a sewing movement one stitch at a time.
Sterling, VA (PRWEB) October 22, 2012
Jennifer Michael is the gal who started it all. Yep... the Jewelry Roll Craze! She is the original reviver of the jewelry roll.
No, Jennifer is not the inventor of the idea as it's been around for some time. However, today it is a must have travel item. Frequent travelers find the Jewelry Roll perfect because now they don't have to resort to boxes or old t-shirts or worst yet, zip lock bags.
Jennifer's jewelry roll is an original trademarked pattern that is one of a kind for CraftyStitches. These features aren't found on any jewelry roll anywhere. Each CraftyStitches original roll features a pair of necklace tabs, velcro pocket, ring tube, and a zipper pocket. The design is innovative and unprecedented. Jennifer says, "I don't like to use hardware because I believe that we need to protect our jewelry with soft cuddly fabrics and batting not metal buttons and scratchy services or plastic". This jewelry roll is a great way for holding and organizing precious earrings and chains so that they remain perfect upon arrival.
Trademarked as "The Perfect Bridesmaids" gift, CraftyStitches Jewelry Rolls have been sold out at One Kings Lane almost every event. CraftyStitches also offers personalized embroidery with monograms, full name, and coming soon -- favcons to represent all tastes and styles. One of the newest arrivals is the one of a kind modern prints by Spoonflower sourced 100% in the USA. Jennifer is proud to report that CraftyStitches sources locally meaning every part of each CraftyStitches signature Jewelry Roll is made in the USA. Supporting local small businesses is one of Jennifer Michael's personal goals. "I love making those connections, it makes me feel responsible as businesswoman," she states.
Checkout our new website at http://www.craftystitches.com to learn more about the sewing movement and other gift ideas.