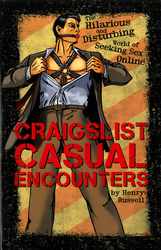 I decided to pick on a less sympathetic crowd – those seeking casual sex on the internet. I wanted to be able to poke fun at people, and I felt guilty preying on people searching for bargains, so I turned my attention to the seedier side of the Craigslist
Los Angeles, CA (Vocus) April 2, 2010
A new book released today, in honor of April Fools' Day, sheds light on the disturbing yet highly entertaining world of people seeking sex online using the Casual Encounters section of the popular Craigslist website.
The book, Craigslist Casual Encounters: The Hilarious and Disturbing World of Seeking Sex Online , contains email conversations between the author (who was posing as someone seeking sexual relationships online) and those responding to his carefully crafted, evolving Craigslist ads.
According to the author (who has chosen to remain anonymous by using the pen name "Henry Russell") he spent more than one year writing and running the ads, and compiling and analyzing the responses.
"Contrary to what some people might believe, I wasn't 'spamming' Craigslist with hundreds of ads every day," says Russell. "Each ad I placed required analysis and cataloguing on my part and often some interaction with the people responding. Each time I ran an ad, I would evaluate the responses I received and I would then tweak the ad to cultivate better responses in the future."
According to Russell, the book contains 29 of the most interesting and entertaining ads accompanied by the corresponding email responses and conversations (of more than 10,000 total responses garnered by the Craigslist ads).
"I often emailed back and forth with the people that responded to my ads, and I guided the conversations into areas that I thought would be funnier for readers," says Russell, who adds that the purpose of the book is to entertain through humor and give him an outlet for his twisted sense of it (since his day job is that of a practicing attorney).
"Once I started writing the fake ads on Craigslist and getting responses, I quickly realized that what I was creating could be marketable," he says. "And I thought I could bring some entertainment and laughter to the world with this book."
Russell began his adventure by placing strange ads on Craigslist for his personal amusement, posting ads selling strange things like dryer lint and scribbles on paper – to see if anyone would respond. To his delight, they did.
"I found the responses amusing," says Russell. "But, ultimately I decided to pick on a less sympathetic crowd – those seeking casual sex on the internet. I wanted to be able to poke fun at people, and I felt a little guilty preying on people searching for bargains, so I turned my attention to the seedier side of the Craigslist."
So, what will readers find in the pages of this highly unusual book? Russell says it is hard to identify the most unique encounters documented in Craigslist Casual Encounters , but offers a few of his favorite highlights.
"Although there are a lot of 'normal' people on the Casual Encounters section of Craigslist, it is the strange and unusual ones that really jump out," says Russell. "I had a very lengthy conversation with a married man from the Midwest in which we discussed his incestuous relationship with his sister. I had no shortage of guys lining up to have sex with my alleged wife in exchange for NBA playoff tickets. A doctor emailed me from his work email address, asking if I would be into letting him run knives lightly over my body. Lawyers, policemen, firemen, university professors and school district employees wanted various forms of casual sex. An airline employee at a medium-sized airport emailed me from his work address, offering to escort me through security so we could have sex in his office."
Russell was quick to add that this is just scratching the surface of what he found, and what readers will find in the book. "The depravity is appalling and disturbingly funny," he admits.
Since (as Russell puts it) the book is essentially a compilation of thousands of pranks pulled by the author using Craigslist, the author and the publisher chose April Fools' Day as an appropriate release date. Books are available on Amazon as well as directly from the publisher at http://www.HaHaPublishing.com.
# # #