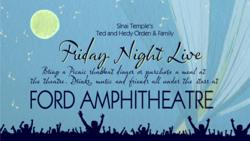 This groundbreaking spiritual service was created fifteen years ago by Taubman and Wolpe, who's named Newsweek's most influential Rabbi in America.
Los Angeles, CA (PRWEB) June 05, 2013
Rabbis Nicole Guzik and David Wolpe will join celebrated musician Craig Taubman and special guest Rabbi Ed Feinstein for a Friday Night Live Shabbat service on June 14, 2013, at the world famous Ford Amphitheatre.
In Friday Night Live's 15 year history, dozens of people have met their soul mates, thousands have found their Jewish roots, and hundreds of thousands have celebrated Shabbat for the first time.
So what do you do for an encore? You take it outside, under the stars, and you wait for the magic!
Taubman states, "While Friday Night Live is a program of Sinai Temple, the service is done as a gift to the whole community with the support of our partners, Jewish World Watch, Shalom Institute, JDate and the Laemmle Theaters. In addition to the Friday Night Live services, the evening will include a chance to picnic and enjoy performances by Duvid Swirsky, George Komsky, Ari Herstand, Yasha Michelson's MiMoDa Jazzo Gruppa, and an art show featuring work from Lawrence Wolf and Amir Magal.
Gates open at 6:00 PM and Shabbat services will begin at 8:00 PM. Guests are invited to bring a picnic dinner or purchase a meal on site.
Tickets are $10 and on sale now at the Ford Theater's website. This event has sold out both years so, don't delay.
For more information about Friday Night Live at the Ford, please contact Craig 'N Co. at 818.760.1077 or info[at]craignco[dot]com.
About Friday Night Live
In 1998, Rabbi David Wolpe of Sinai Temple in Los Angeles teamed with Emmy-nominated Jewish singer/songwriter Craig Taubman to create a rockin' monthly service designed to bring Jews aged 25 to 39 together to celebrate Shabbat. Call it a service or call it a concert, Friday Night Live has since made much joyful noise in the Jewish community. Craig, Rabbi Wolpe and the Friday Night Live Band have taken their share of flak for tinkering with something as sacred as a Shabbat service. But the numbers don't lie. Friday Night Live continues to grow in popularity, as the attendance has increased over the years to nearly 1,500 on any given Shabbat. Friday Night Live's popularity has attracted famous and dynamic speakers including Elie Wiesel, Reverand Rick Warren, David Kohan, Imam Jihad Turk and David Gregory. Musical guests have ranged from actor/singer Theodore Bikel, to Israeli pop stars David Broza and Rami Kleinstein, to rappers and gospel choirs. Friday Night Live also has influence outside Los Angeles and has been adopted in synagogues worldwide.
About Craig Taubman
Craig Taubman began his career at the tender of age of 15 when he picked up a guitar and began to lead music at Camp Ramah in Ojai, California. His musical styling has made his recordings an integral part of the Jewish community including his top-selling release, Friday Night Live, composed for a special Shabbat service held once a month at Sinai Temple with Rabbi David Wolpe in Los Angeles. His extensive musical catalog consists of over 50 recordings featuring everything from Celebrate: Jewish Lullabies to Rock'n Toontown, featuring backup vocals with Mickey and Minnie. Craig has also enjoyed a successful career in television and film, composing and directing music for the Fox children's series Rimba's Island, the critically acclaimed HBO animated series Happily Ever After and Shari Lewis' PBS series, Charley Horse Pizza. His music has been featured at the Coca Cola Olympic Pavilion in Atlanta as well as in the Paramount Pictures feature film Andre, New Line Cinema's Pinocchio, and Disney's animated short film, Recycle Rex. His songs have been recorded by such respected artists as Chita Rivera and Jennifer Holliday. Craig's sell-out concerts draw thousands of fans at such respected venues as Ravinia in Chicago, Valley Forge in Pennsylvania, Westbury Music Fair in New York, the Greek Theater in Los Angeles and three special performances at the White House.
Complimentary Press Tickets Available