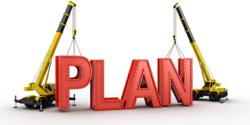 Don't guess. Calculate
(PRWEB) April 26, 2013
Three lift planning software suppliers will showcase their products side-by-side during the May 29-30, 2013 CRC/ICHC conferences to be held in Indianapolis, Ind., following a review of the new ASME P30 standard "Planning for Load Handling Activities and Critical Lift Plans." Lift Planning experts from A1A Software, craniMAX, and LiftPlanner offered the following advice when selecting lift planning software tools for your crane and rigging projects. "Don't guess. Calculate," says Michael Kölsch, CEO, craniMax.
1. Lift planning applications should be able to calculate and create multiple rigging setups including adding shackles, lugs and other rigging accessories. They must be able to create and engineer multi-crane lifts, including tailing and tandem lifts. – Tawnia Weiss, president, A1A Software
2. Calculation for outrigger loadings or ground bearing pressures must be done during run time and its input must be based on original values from the manufacturer. — Michael Kölsch, CEO, craniMax
3. Sometimes a carefully crafted single sheet will be the only diagram required. Show the most critical aspect of the lift, like the load clearing the edge of the building with sufficient headroom in an elevation view. Locate the crane center of rotation in a plan view with dimensions from site landmarks. – Jim Meehan, Developer, LiftPlanner
4. If the lift is more complex show the "stages" of the lift on different sheets. Sequence the sheets in the same order as the work will take place on the site. The order is logical like crane positioning on sheet one, load arrival on sheet two, rigging arrangement on sheet three, crane lifting begins, etc. – Jim Meehan, Developer, LiftPlanner
5. The lift planning program must be easy to use and reinforced with good training and customer support. – Tawnia Weiss, president, A1A Software
Register before April 26 to qualify for the Early Bird discount.
Visit http://www.craneandriggingconference.com for information.
About Maximum Capacity Media
Maximum Capacity Media is publisher of Crane & Rigging Hot Line, Lift and Access, Industrial Lift & Hoist, and Lift & Hoist International. It also produces CRC/ICHC, Lift and Access Showcase & Symposium, The Crane Operator Rodeo, and other industry events.