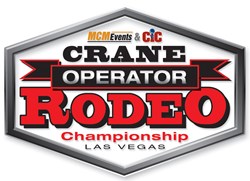 This is the only crane operator recognition program of this scale in North America
(PRWEB) April 05, 2013
CIC has renewed its partnership for the third year in a row with Maximum Capacity Media to offer the industry the MCM-CIC Crane Operator Rodeo. The event provides operators in North America an opportunity to showcase their skills and is intended to increase awareness of the 2014 OSHA requirements for crane operators to be certified by type and capacity.
"This is the only crane operator recognition program of this scale in North America," said Debbie Dickinson, Executive Director of CIC. "Working with Regional Qualifier Hosts in cities from coast to coast, we are able to introduce young people to crane operation as a profession, and educate local governments and businesses about the role training, experience, and certification plays in safe crane operation."
Seven Regional Qualifying Rodeos are currently scheduled for 2013. The top two finishers of each Regional Qualifier will advance to the National Championship, which will be held in March 2014 at ConExpo-Con/Agg in Las Vegas.
On June 27, 2013, Cranes 101, the training division of Crane's Aerial Truck Service, will co-host the first Regional Qualifier with Wood's CRW in North Oxford, Mass, near Worcester. Cranes 101, based in Bellingham, Mass., specializes in offering Massachusetts and Rhode Island state license preparation, OSHA 10 and 30 Hour classes, and operator training for personnel devices and cranes of all types. In addition, Cranes 101 is an authorized written and practical exam provider for Crane Institute Certification. Their staff will provide judges and proctors for the Regional Qualifier. As co-host, Wood's CRW Corp., a heavy-construction equipment distributor, will provide the crane for the event. Wood's represents Link-Belt, National, Shuttlelift, and Tadano crane brands.
The second Regional Qualifying Rodeo will also be held in the Northeast. Empire Crane, Syracuse, N.Y., returns for a second year as a host, with an event to be held July 19, 2013 at its headquarters. The company is an authorized dealer for Terex Cranes, Tadano-Mantis, Grove Industrial Cranes, and Manitex Boom Trucks.
Other Regional Qualifying Rodeos will be held throughout the summer and fall. Kolo Training in Edmonton, Alberta, will host an event in August; Industrial Training International will host September's Regional Qualifying Rodeo in Woodland, Wash.; the San Diego AGC will hold an event in October; and Webber LLC will be the Houston, Texas host in November. CIC and the Florida Crane Owner's Council will also hold a regional event in Orlando, Fla., in the fall.
CIC has designed the course and contest standards and CIC practical examiners in each of these cities will volunteer as judges for the competitions.
For more information or to register visit: http://www.craneoperatorrodeo.com
About CIC
Crane Institute Certification is an independent certifying organization providing accredited certification for the crane industry. The CIC purpose is to the meet the changing needs of the lifting industry. CIC's mission is to provide the most affordable and valuable certification possible to help personnel comply with OSHA's requirements
About Maximum Capacity Media
Maximum Capacity Media is publisher of Crane & Rigging Hot Line, Lift and Access, Industrial Lift & Hoist, and Lift & Hoist International. It also produces CRC/ICHC, Lift and Access Showcase & Symposium, The Crane Operator Rodeo, and other industry events.