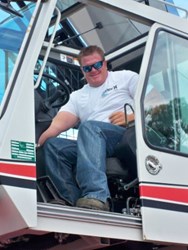 Crane Operation is no longer a job. It's a profession. The complexity of cranes requires a broad spectrum of higher mental and physical abilities of a specifically trained professional.
(PRWEB) June 14, 2013
Finalists in the 2013 Crane Operator Rodeo went through a course that was timed as well as monitored for accuracy, load control, and depth perception.
This summer marks the beginning of the third year for the MCM & CIC Crane Operator Rodeo, with regional events taking place across the country from June to November.
The first event will be held in North Oxford, Mass., where the IUOE Local 4 will supply a crane simulator for operators to prepare for the competition, as well as allow attendees to sit in a crane cab and operate a virtual crane. Additionally, Cranes 101 and Wood's CRW plan to hire a deejay for the Rodeo, hand out crane industry gear, and raffle off prizes. While the focus of the event is the crane operator competition, area technical students and the local community are invited to watch.
"Crane Operation is no longer a job. It's a profession. The complexity of cranes requires a broad spectrum of higher mental and physical abilities of a specifically trained professional," said Jay Sturm, President of Cranes 101, a division of the Sturm Corporation. "I'm concerned that the general public may not understand the level of professionalism that is required by the workers in this industry. To that end, I hope that events like these will educate the public about what it takes to safely operate cranes."
Vendors at the Regional Qualifying Rodeo will include representatives from National Crane, Link-Belt, and I&I Sling. A portion of the proceeds collected will be donated to the Loki Clan Wolf Refuge charity.
Following the first Regional Qualifying Rodeo, Empire Crane, Imperial Crane Services, and KOLO Safety will be hosting upcoming Crane Operator Rodeos in July and August.
Empire Crane returns as the Regional Qualifying Rodeo sponsor in Syracuse, N.Y. The event takes place July 19 at its facility. Half of the proceeds from the $30 registration fee will be donated to the CNY SPCA, a non-profit organization helping animals and finding them homes.
Empire plans to offer a barbecue lunch during the Rodeo , as well as invite local officials and vendors. Cranes from Terex, Tadano Mantis, Grove, and Manitex will be on display, and representatives from Terex, Manitex, Tadano Mantis, and Shuttlelift have been invited to exhibit.
"To have the opportunity to invite the region's crane operators along with company principals to show off our facility and staff is the ultimate sales call," said Paul Lonergan, president of Empire Crane. "The Rodeo will give us the insight into crane fleet makeups and what opportunities that may lie ahead."
In addition to professional crane operators participating in the Rodeo, Empire plans to invite students and instructors from local technical schools and colleges to promote crane operation as a career.
Imperial Crane Services' Regional Qualifying Rodeo is scheduled to take place August 9 in the Chicago area. Half of the proceeds from the event will go to the Bohne Foundation, named for Imperial Crane founder, John Bohne, to carry on his legacy of generosity. According to Imperial, the foundation supports orphanages and schools, medical research, substance abuse programs, disaster relief efforts, and anti-gun violence initiatives. Learn more at http://www.bohnefoundation.org.
On August 24, KOLO Safety will host its Regional Qualifying Rodeo in Lindale, Alberta in conjunction with URS Flint. According to Lisa Olver, president of KOLO Safety, the company decided to host the event to generate awareness of the hoisting and rigging industries for the next generation. The company has added classes to its offerings, such as an introduction to hoisting and rigging high school program, an annual Junior Crane Operator Rodeo, and all-female crane operator training courses.
"The industry will benefit from an event like this," Olver said. "They get so see some friendly competition between oilfield service companies with truck-mounted cranes and other industries in our area. The Children's Stollery Hospital is going to be the biggest winner from this event. One hundred percent of the proceeds and advertising revenue as well as cash donations will be given to them."
In addition to the Crane Operator Rodeo, vendors will have an opportunity to showcase their products, and crane owners and operator will get the opportunity to see what's new. KOLO will be sponsoring lunch, dinner, and live entertainment on the day of the rodeo.
Participation expectations
CIC has designed the operator test course and contest standards, and CIC practical examiners in each Regional Qualifying Rodeo city have volunteered to judge the competitions. Tests in 2012 included placing the crane's headache ball into barrels without landing the ball or hitting any barrels, maneuvering 55-gallon drums full of water through a barrel-lined obstacle course, and raising a 10-foot pipe laying on the ground to a vertical position then placing it between a set of cones. Each test was timed and monitored by the judges for load control, depth perception, and accuracy.
The top two operators at each Regional Qualifying Rodeo will advance to the National Championship, which will take place at ConExpo 2014.
Register for an upcoming Regional Qualifying Rodeo at http://www.craneoperatorrodeo.com.
Regional Rodeo Dates
North Oxford, Mass; Held and sponsored by Cranes 101 and Wood's CRW Corp.
June 27, 2013
Syracuse, N.Y.;Held and sponsored by Empire Crane
July 19, 2013
Chicago;Held and sponsored by Imperial Crane
August 9, 2013
Lindale, Alberta;Held and sponsored by KOLO Safety Inc.
August 24, 2013
Woodland, Wash.;Held and sponsored by ITI
October 5, 2013
San Diego;Held and sponsored by San Diego AGC
October 11, 2013
Houston;Held and sponsored by Webber, co-sponsored by HIIG
October 18, 2013
Sanford, Fla.;Held and sponsored by Crane Institute of America and Florida Crane Owners' Council
November 9, 2013
About Maximum Capacity Media
Maximum Capacity Media is publisher of Crane & Rigging Hot Line, Lift and Access, Industrial Lift & Hoist, and Lift & Hoist International. It also produces SAF-T, CRC/ICHC, Lift and Access Showcase & Symposium, The Crane Operator Rodeo, and other industry events.