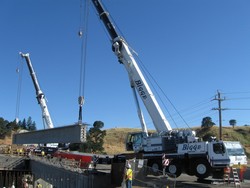 Sacramento, CA (Vocus) June 15, 2010
Over the weekend, Bigge Crane and Rigging's crane rental division was at work laying the girders to widen the American River Bridge at Hazel Avenue. Bigge used two Liebherr LTM 1220 all terrain cranes, each with a lift capacity of 265 tons, to hoist the girders that support the bridge into place. Operating over 100 feet above the American River, Bigge lifted and placed sixteen girders, each approximately 120 feet long and weighing over 175,000 pounds.
While working with the precast and general contractor, the work Bigge completed will widen the bridge from four to six lanes, easing congestion on the heavily traveled bridge. Additional bicycle and pedestrian lanes are also incorporated into the expansion. The bridge, estimated to carry up to 50,000 cars a day, closed Friday at 7 pm to allow for the expansion and was projected to be closed until 5pm Monday. Bigge worked throughout the night on Friday and was able to finish their work ahead of schedule, in part allowing the bridge to reopen by 8am on Monday, June 14.
About Bigge Crane
Bigge Crane and Rigging is one of North America's largest crane sales and crane rental companies. Bigge specializes in heavy lift, heavy rigging and specialized transportation projects for the refinery, petrochemical, power and civil infrastructure industries. Their headquarters are in San Leandro, CA, with thirteen offices nationwide.
###