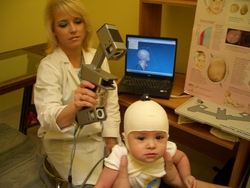 HelmetBaby.com is a comprehensive resource for individuals looking for information and treatment for plagiocephaly
Beverly Hills, CA (PRWEB) January 23, 2008
Parents looking for information or treatment for plagiocephaly can now turn to the new Web site HelmetBaby.com. The site, a division of Lerman & Son Orthotics and Prosthetics, provides information on the company's cranial remodeling system, which uses digital laser technology for both better correction and less traumatic contact than that of traditional methods.
"HelmetBaby.com is a comprehensive resource for individuals looking for information and treatment for plagiocephaly," says Lawrence Lerman of Lerman & Son. "Our remodeling system allows us to document improvement of the condition, verifying changes that conventional methods may not."
In 1992, the American Academy of Pediatrics recommended infants lie on their backs to prevent sudden infant death syndrome. As a result, Lerman & Son has seen an increase in cranial remodeling cases due to plagiocephaly, a condition in which a flattened spot develops on the side or back of an infant's skull.
Typically, cranial remodeling is possible for infants between four months and one year of age. In some cases, the treatment window extends to 18 months of age. Lerman & Son's Biosculptor cranial remodeling system uses a more total contact approach, allowing better correction than current treatments available. The digital technology is also designed for the benefit and comfort of infant patients, as it eliminates the often traumatic experience of plaster molding inherent in other treatments.
After measuring the skull and determining treatment is necessary, Lerman & Son creates a digital laser mold of the child's head to create a customized cranial remodeling helmet. The company is in full control of the evaluative, measuring and follow-up process until the treatment process ends.
HelmetBaby.com provides medical information, frequently asked questions as well as information on the treatment of plagiocephaly. The site also features a short video on the digital laser cranial remodeling treatment offered at Lerman & Son.
For more information on Lerman & Son Orthotics and Prosthetics, its new Web site, HelmetBaby.com, or its digital laser cranial remodeling system, visit http://www.HelmetBaby.com.
Contact:
Lerman & Son
8710 Wilshire Boulevard
Beverly Hills, CA 90211
310-659-2290
###