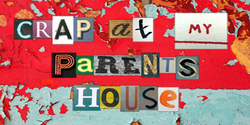 "We are really excited to add this hilarious "Crap" to our television and digital slate" - Danny Fisher, CEO, Fisher Brothers Media
New York, NY (PRWEB) September 3, 2010
Fisher Brothers Media, managed by Danny and Jack Fisher - the founders of previous company City Lights Media – have acquired the exclusive television and digital rights to the fast growing new humor website CrapAtMyParentsHouse.com. According to the website's founder, the goal of Crap At My Parent's House is to "pay homage to all of the weird crap that everyone's parents have… anything you deem funny, weird, odd, unique, strange, absurd, ridiculous or just plain terrifying."
The website is the creation of Brooklyn, NY based comedian Joel Dovev, who created the website 10 weeks ago. The site has quickly developed a substantial and growing audience and has been featured in media outlets around the world including the front page of The Huffington Post. The website is generating hundreds of thousands of views a month and its fan base continues to grow. The site features pictures of various items found at readers' parents' homes paired with commentary supplied by Dovev.
Danny and Jack Fisher's previous company, City Lights Media, was one of the most prolific creators and producers of television and digital content in the world, with over 60 television shows created and produced for over two dozen networks and over 1,000 webisodes produced. The Fisher brothers' credits include the motion picture comedy "The Ten", written and directed by David Wain and staring Paul Rudd, Jessica Alba and Wynona Ryder, Food Network's popular show "Chopped" hosted by Ted Allen and Oxygen series "The 50 Funniest Women Alive" hosted by Kelly Ripa.
The 27-year-old Dovev is a New York based comedian who regularly writes and performs stand-up, sketch and improvisational comedy.
###