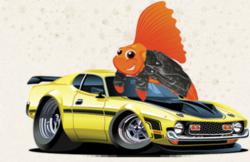 I know that people say this all the time, but I'm not a financial adviser trying to get you to buy something so I can repeat it: it's never too young to start. [on IRAs]
New York, NY (PRWEB) July 09, 2012
RoadFish.com men's lifestyle and finance magazine encouraged its readers to turn to financial adviser Jean Chatzky for what it calls a lesson in "Personal Finance 101." RoadFish.com praised Chatzky's recent interview with the Sacremento Bee, in which she offered finance tips on everything from retirement accounts to teaching kids about money. RoadFish.com adds some of its own advice in its words to readers today.
Claudia Buck of the Sacramento Bee was able to interview Chatzky, who is a financial editor on NBC's the "Today" show as well as the author of eight different money-themed books, by phone from New York. Chatzky referred to coming out of the recession as a process, rather than an event, and recommends that users follow a "financial road map" to gain and keep control of their personal finances during this volatile time. According to the article, Chatzky states that the most important question consumers should be answering for themselves is how much money they ought to be saving to hit their retirement goal. She advises people to figure out what they'll need to live on month-to-month, and declares that half of Americans have actually never figured this out, which can lead to terrible financial strain and stress over the years.
RoadFish.com echoes Chatzky's recommendation by urging folks to look into IRAs, if they haven't yet. RoadFish.com's Senior staff writer is quoted as saying, "I know that people say this all the time, but I'm not a financial adviser trying to get you to buy something so I can repeat it: it's never too young to start. Figure you'll double what you put into it about every eight years—completely a rough estimate—and just think about every year that you are wasting by not having one. I didn't get my finances totally in order until a little later in my life, and by the time I opened my IRA I wished I'd done it a decade and a half earlier. Do your homework to figure out what type of IRA is best for you, and then start saving."
In her interview with the Sacramento Bee, Chatzky is quoted as having the mantra of "paying down debt." She advises consumers to refinance car loans and mortgages while the rates are down, stating, "It's money in your pocket." For those who do not have the credit score to qualify for the best rates, she strongly recommends working on building credit by keeping current with payments, paying off the debt instead of adding anything further to it, not applying for new cards and especially to keep old cards as opposed to closing them, as some people mistakenly think is wisest.
Chatzky also addresses the age-old question of whether it is better to rent or to buy. She is quoted as saying, "If you're not going to be there five years or more, I'd rent. If you are going to be there at least five years, look at what it costs to rent vs. buy in your part of the country. You need that time horizon to weather the ups and downs. The appreciation may not be there. I bought in May 2005 (in Westchester County, N.Y.) and I was right at the peak. So if I sold today, I wouldn't recoup. But I'm not leaving."
RoadFish.com likewise tackles the subject of housing, and advises its readers not to jump into buying a house simply because the market is low if they weren't planning on it. RoadFish.com's Senior staff writer is quoted as saying, "I have friends who talk about buying a house simply because the mortgage rates are as low as they are right now, but the fact is if you haven't been planning for it, or saving for it, or don't have a good credit score to back it up, it's not a wise choice. I strongly encourage everybody to scrutinize their own personal financial situation—what's in their savings, what their salary is, where their career is going—and to not jump on the band wagon just because of a good deal. True, it's as good a deal as you might ever get, but that still doesn't mean that everybody can afford it, or that it's right for everybody."
Besides being the financial editor on the "Today" show, Chatzky also has her own website and was recently given the title of "financial ambassador" on AARP's monthly magazine and website. Her initial article was titled "Six Smart Moves to Make in a Scary Economy." Chatzky has written eight books on money and finances, including her latest, "Money Rules."
About RoadFish.com
RoadFish.com is an online men's lifestyle and finance magazine targeted toward men in their 30's and 40's that have already attained a moderate level of success in life, and are striving toward more. It goes over current events of interest to this group, such things as exciting adventures, managing personal finances, consumer interests, hot chicks, and Olympics updates as well as ways to make more and save more money. It is a publication owned by Purpose Inc.