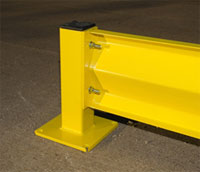 Our goal is to be the manufacturer of choice based on our outstanding products as well as our competitive pricing.
Fort Worth, Texas (PRWEB) December 20, 2011
Bluff Manufacturing, Inc., a national provider of material handling and dock and warehouse safety equipment, announces the new Tuff Guard Safety Rail to its Crash Guard product line. This newly designed safety rail is manufactured specifically to improve plant safety and efficiency along with additional benefits such as reducing any costs incurred from employee injury, machinery down time, insurance claims, and building repairs caused by accidental collisions.
According to Andrea Curreri, vice president of marketing and sales, the Tuff Guard Safety Rail's newly upgraded design has not only exceeded expectations but now provides more cost-saving solutions.
"We understand the challenges facing plant owners and warehouse managers, such as protecting products and keeping personnel safe," explained Curreri. "Our goal is to be the manufacturer of choice based on our outstanding products as well as our competitive pricing. The modifications made to our new Tuff Guard Safety Railing has effectively decreased the weight of the product, the cost of the product and the rail installation time, all adding up to substantial increase in savings."
The Tuff Guard Safety Rail prevents forklift access into designated areas and also protects personnel, machinery, building structures and other equipment and office areas. The new rail design has features which are consistent with the original Bluff Manufacturing design, but are now more innovative and can be installed quickly with ordinary hand tools and concrete drills. New design modifications include:

Structural steel ASTM A36 I-beams replaced with 4x4x3/16" square tubing steel posts
Addition of plastic insert caps for mounting post closure
Formed 10 gauge steel rails made in lengths up to 12'
Rails can withstand impacts of 10,000 pounds traveling at 4 miles per hour
Custom colors quoted upon request
Reconfiguration of hardware for rail attachment:
o 2 bolts per side for 4 bolts per rail
o Rail-to-post connection is a "thru-bolt" connection (bolt goes through the rail and square tubing
o All bolt fasteners are hidden behind the rail for a clean look
Features consistent with Bluff Manufacturing's original safety rail design include:

Formed 10 gauge steel rails made in lengths up to 12'. Rail lengths are based upon center-of-post to center-of-post measurements in 1' increments.
Standard post heights are 18" and 42"
Base plates are 8" square and 1/2" thick steel and include 4 each 5/8" wedge anchors for concrete mounting.
Curreri notes that federal standards for safety barrier testing are an impact of 10,000 pounds (fork lift truck) traveling at four miles per hour, but Bluff Manufacturing made the decision to increased its safety crash standard to a travel velocity of six miles per hour.
"We realize that docks are busy places and all too often the speed of operation far exceeds four miles per hour. Even using this upgraded performance requirement, the new Bluff Tuff Guard Safety Railing exceeded crash testing expectations with minimal rail deflection," she confirms.
For additional information on the Tuff Guard Safety Rail or any of the Crash Guard warehouse safety products, contact Bluff Manufacturing at toll free (800) 433-2212 or http://www.bluffmanufacturing.com.
About Bluff Manufacturing
For more than 40 years, Bluff Manufacturing has been recognized as an innovative leader in the fabrication and design of high quality dock, warehouse, and safety equipment. Bluff Manufacturing, whose customers include Frito Lay, Lumber Liquidators and ABF, is the only company to meet the American National Standards Institute's (ANSI) MH30.2 standard, ensuring the highest quality products and providing customers with the greatest possible value. Based in Fort Worth, Texas, Bluff Manufacturing serves the entire U.S. through a national distributor network, and the company's 11 distribution warehouses ensure quick delivery of the standard items in the company's product line including yard ramps, dock boards, dock levelers, wheel risers, and safety barrier product Crash Guard.
Bluff Manufacturing acquired B&L Structures in June 2010, expanding its portfolio to include work platforms, mobile units, stairways, free standing conveyor support structures, caged ladders and mezzanines.
###