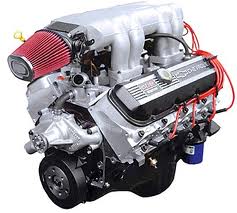 Our crate engines help provide an alternative to used or remanufactured engines.
Houston, TX (PRWEB) April 24, 2012
Crate engines are bought and sold each day online although the general public is probably unaware of this activity. Regular drivers, automotive dealerships and auto repair facilities rely on these engines to replace blown engines in trucks, cars and SUVs. The popularity of Ford and Chevy vehicles is one of the things that help fuel the secondary engines market. The online engine dealer, CarEnginesforSale.com, is capitalizing on the success of selling these crate engines. All Ford and Chevy crate engines are now discounted from the standard low price. This effort is designed to move out older inventory to make room inside of the newly built engine warehouse for the late model 2012 and 2013 crate engine inventory that is arriving soon from Chevrolet and Ford.
Preferences for engines can vary widely in the secondary engines market. A used engine that is pulled from a vehicle that has been totaled is most often disassembled and sold by junkyards or scrap parts dealers. Remanufactured engines are rebuilt using new parts, but the mileage already on these engines cannot be erased. "Our crate engines help provide an alternative to used or remanufactured engines," said Mark Scott, Lead Call Center Agent for CarEnginesforSale.com. "There are customers that want a new engine and cannot afford the price. We provide our custom built crate engines to fit their needs," Scott added. A crate engine sold exclusively from a dealership can come with a higher price. Both Ford and Chevy crate engines can be less expensive because they are not actually built by these automakers.
Engine replacements can be the single biggest expense to a vehicle owner. The high mileage that an individual vehicle or family vehicle can accumulate in a year can be surprising. "It is not uncommon for a vehicle engine to experience issues at 50,000 or 75,000 miles," said Brad Hogue, Chief Engine Builder at CrateEnginesforSale.com. The average auto warranty stops at 30,000 miles and vehicle owners have the option of purchasing an extended powertrain warranty. A custom built crate engine can be one of the solutions that give an older vehicle a new lease on life. "Getting a few extra years out of a used car, SUV or truck could help someone in a fragile economy," added Hogue. 
The crate engines that are sold by CrateEnginesforSale.com are built by experienced mechanics. Each engine must undergo a visual and computer assisted testing process to ensure customer quality. When compared to an untested used engine, a crate engine can function just like a brand new engine only without the traditionally higher expense. The recent discounted Chevy and Ford engines inventory includes variations like Mopar crate engines by GM the parent company of Chevrolet.
About CrateEnginesforSale.com
As an exclusive crate engines dealer, CrateEnginesforSale.com sells the top crate engines from Ford, Chevrolet, Dodge and Toyota. Every engine is custom built and follows the OEM specifications that are published by major automakers for engine builders. Customers from the continental U.S., Canada and Europe depend on CrateEnginesforSale.com to provide engines for vehicle swaps, project car building and engine replacements.