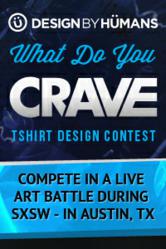 Enter you next T Shirt Design for a chance to win a trip to SXSW.
Chico, CA (PRWEB) February 20, 2013
A craving can come in the form of a chocolate bar, soy latte or a burrito at 4 a.m. Design By Hümans, an online community of artists and t-shirts lovers, has teamed up with leading men's interest website CraveOnline to ask "What do you Crave?" Artists are asked to submit their craving in graphic T-shirt form by March 1 for a chance to take part in a live, head-to-head design battle in front of hundreds of onlookers at the annual SXSW festival in Austin, Texas. View and Enter the Contest at Design By Humans.
"This battle at SXSW is going to bring out the best in our artists who have to handle the pressure of performing in front of hundreds of on-lookers cheering and jeering," said Design by Humans Vice President of Marketing Alex Wood. "We're always looking to step up our game and we found a great partner for our once in a lifetime battle with CraveOnline."
Graphic T-shirt artists have until March 1 to submit creations for a chance to win a trip to SXSW. Two winners from the U.S. will be picked then and flown to Austin, Texas where they will go head-to-head in an epic design battle on March 13. With only 90-minutes, both participants will design the T-shirt that will forever define them as an artist. Their work will be projected on the wall while they work for instant feedback from the crowd. The competition will be filmed by the CraveOnline team and uploaded for the world to see shortly after. In addition to the ultimate bragging rights, each winner will receive $1,000 and $200 spending cash while in Austin.
Participants may submit as many designs as they'd like but it must be 100 percent original. All submissions will be reviewed by Design by Humans and then voted on by fans. The U.S. winners must be available March 12-13 and transportation and hotel will be provided by Design by Humans. One international winner will also be selected and will receive $1,250 and six free shirts.
Prizes:
1st Place - U.S.A. Winner
$1000 + Round Trip airfare to SXSW, 2 Night Stay, $200 Spending Cash
2nd Place - U.S.A. Winner
$1000 + Round Trip airfare to SXSW, 2 Night Stay, $200 Spending Cash
3rd Place - International Winner
$1250
Dates:
March 1, 2012 - Contest concludes
March 12, 2013 - Two winners fly to Austin Texas, SXSW
March 13, 2013 - Epic head-to-head battle begins
March 18-20, 2013 - Winning shirts go on sale
About Design By Hümans
Design By Hümans promotes unique, creative and trendy t-shirt designs; its online community is dedicated to buying, designing and celebrating the art of graphic t-shirts. Each day there is a new designed shirt, selected from hundreds of creative submissions. At Design by Hümans, we support and inspire humans to create the best T-shirt for fellow humans. Our give back contests support communities and relief efforts worldwide. We have many contests designing shirts aimed at supporting creativity and pushing the boundaries of screen-printing techniques. Contests range from worldwide causes, musicians, creative themes helping the community and arts. Inspire others by being part of a community and owning unique T-shirts. Support the worldwide art community by wearing your favorite artists' work that are printed on high quality cotton using environmentally friendly inks and the most advanced printing methods. Design By Hümans is a community that everyone can be a part of today. Shop, buy, discover, vote and create the next big trend in graphic tees.