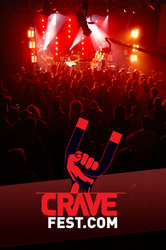 We understand the participatory culture of the Internet generation and our online voting system is designed to let the people decide who gets nominated to win.
Toronto, ON (PRWEB) July 3, 2008
Cravefest.com, the user-submitted international music video supersite, is now inviting music lovers, record labels, indie artists, directors and producers from around the world to vote for their favourite music videos. Voting is free, and determines which of the eligible international music videos featured on cravefest.com become nominated for a CraveFest Music Video Award, garner music industry recognition, and have the chance to win over $10,000 dollars in prizes. Public voting for the 2008 CraveFest Music Video Awards began June 26, 2008 and ends August 1st, 2008. Music Video Award winners will be announced live at the 2008 CraveFest Music Video Awards to be held on August 17th at Toronto music hotspot, Tattoo Rock Parlour.
Cravefest.com features user-submitted music videos from indie music artists, record labels, directors, producers and bands from around the world. Watch music videos and vote for your favourites across many genres including rock, punk, metal, hip-hop, rap, dance and electronic music. To qualify for the 2008 Music Video Awards, videos must be submitted to cravefest.com before August 1st, 2008. Qualifying music videos currently on cravefest.com include: 'Hail Destroyer' by the Cancer Bats, 'Blonde Kryptonite' by The Saint Alvia Cartel, 'Securing My Seat' by Hostage Life, 'Hold Me In Your Arms' by The Trews, 'I Get Around' by Dragonette, 'Myriad Harbour' by New Pornographers, 'Bloodmeat' by Protest The Hero and hundreds of additional videos from both well-known and new talents. CraveFest continues to be a great resource for artists to promote music videos online. CraveFest is also launching new contests featuring prize giveaways for registered members.
How voting works:
Registered site visitors can vote for a maximum of 15 of their favourite music videos and keep track of them via the newly launched 'MyCrave' page. To accommodate music videos submitted after June 26th, 2008, site members can alter their nominations up until the final day of voting. The music videos with the most votes as of August 1st, 2008 are reviewed by a panel of credible judges who select the 2008 award winners.
Confirmed CraveFest judges for the 2008 Festival include:

Alan Cross - Edge 102.1 Program Director/Host of 'The Ongoing History of New Music'
Ulysses Terrero - Film & Music Video Director
Scott Simons - Head of International Recordings/ A&R/ 'Ministry of Sound'
Saundra Bianchi - Director of Marketing, HMV Canada Inc.
Richard Cureton - Executive Producer, SPY Entertainment
In addition to launching public voting, a number of new features have been added to the site, including the ability to embed videos into blogs, social networks and web pages, plus the integration of social bookmarking. The new website features combined with a high-resolution music video experience give artists the opportunity to leverage the promotional power of the Internet. "Our technology allows artists to showcase their talent to an international fanbase while simultaneously giving music lovers a vast selection of music videos to discover and enjoy," says Gautam Pinto, Technology Strategist at CraveFest. "We understand the participatory culture of the Internet generation and our online voting system is designed to let the people decide who gets nominated to win."
Cravefest.com also provides site visitors with original music and entertainment programming shot in HD, viewable on the CraveTV section of the site. "We produce unique cutting edge broadcast quality content offering an in-depth look at the music-scene, with exclusive artist and celebrity interviews featuring Bedouin Soundclash, Death Cab For Cutie, Hedley, The Golden Dogs, Donnie Wahlberg, Jayde Nicole and much more," notes Tim Sandik, Director of Production at CraveFest. "Also on CraveTV, site visitors can watch remote acoustic music performances, comedic segments, and behind the scenes on-set profiles of music video shoots."
About CraveFest:
CraveFest is an International Music Video Festival dedicated to providing artists and fans with a new channel for exposure and discovery. Artists are invited to submit their videos to cravefest.com, while fans are encouraged to watch, rate and vote for their favourites. The top voted videos are reviewed by a panel of credible judges who determine the final Music Video Award winners.
CraveFest is made possible by the support of dedicated sponsors including: HMV, Maxell, KICKER, Rockstar, JL Audio, Gem-Sen and Ink.
CraveFest has content and distribution affiliations with DJlinks.com, Ultimate Indie TV, BPM TV, The Toronto Independent Music Awards and Vuze.
For further information on voting or video submission see the website for details or find out more about CraveFest.
For media enquiries please contact:
Carolyn Mendlowitz, CraveFest Marketing Director
Tel: 905-660-3110 x 235
Fax: 905-660-3108
Contact CraveFest
###