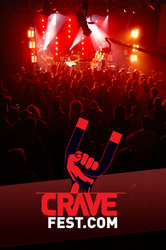 We allow artists to bypass the traditional means of exposure by providing a platform where music videos of well-known talents like K-OS, Metric and Billy Talent receive as much coverage as up and coming indie musicians
Thornhill, ON (PRWEB) June 5, 2008
Cravefest.com, the user-submitted international music video supersite, is accepting submissions for its online International Music Video Awards. Musical artists, Music Video Producers, Directors, bands and record labels from around the world are now welcome to submit their music videos to the annual CraveFest Music Video Awards where they will have the opportunity to win over $10,000 in prizes while receiving free online exposure to an international fan base and industry professionals. Award winners will be announced live at the 2008 CraveFest Music Video Awards to be held in Toronto this August.
As an exposure platform for indie music videos, Cravefest.com helps promote musical artists and acts as a discovery mechanism for music fans worldwide by connecting them with a variety of music video content. CraveFest recognizes and awards artists from many musical genres including rock, metal, rap, hip-hop, dance and electronic music. Viewers can also browse music videos, share videos with friends and rate their favourites.
In addition to music videos, find originally produced quality content on CraveTV, the CraveFest online music entertainment channel. Producer / Hosts: Tanya Blake, Korey Schaefer, and other unique personalities provide an in-depth look at the music scene. Site visitors can view exclusive artist and celebrity interviews featuring Jayde Nicole, Belly, Donnie Wahlberg, Hedley and many others.
Cravefest.com is a participatory, visual, musical and social entertainment experience. The site provides a variety of unique features including high-resolution user-submitted music videos, resulting in terrific clarity on virtually any mobile, desktop or Internet connected viewing device. Cravefest.com is dynamic and interactive; fans vote for their favourite music videos directly impacting which artists will become award finalists. In addition, music videos submitted to cravefest.com will soon be embeddable into blogs, social networks and web pages, allowing instant online exposure and promotional opportunities for musical artists.
"The transition from observing passive television entertainment programming to discovering media online where it can be viewed at one's own convenience is evidenced by the popularity of video aggregation sites like YouTube, Vuze, iTunes, and other social networks," says Gautam Pinto, Technology Strategist at Cravefest.com. "We accommodate the needs of the music loving Internet generation by presenting fans with a free 24/7 music video on demand channel that features instant access, direct participation and quality content across diverse music genres."
"We allow artists to bypass the traditional means of exposure by providing a platform where music videos of well-known talents like K-OS, Metric and Billy Talent receive as much coverage as up and coming indie musicians," explains Tim Sandik, CraveFest Production Director. "Cravefest.com also provides access to an international roster, and currently showcases videos from: Canada, USA, U.K., Denmark, Turkey, Australia, Netherlands, Norway, Germany, France, Spain, Amsterdam, Austria, Czech Republic, Sweden, Belgium, Iceland, Israel, Slovenia and Japan." "CraveFest is a global phenomenon and music is the universal language that speaks to all."
Confirmed CraveFest judges for the 2008 Festival include:
Alan Cross -- Edge 102.1 Program Director/Host of 'The Ongoing History of New Music'
Ulysses Terrero -- Film & Music Video Director Extraordinaire
Scott Simons -- Head of International Recordings/ A&R/ 'Ministry of Sound'
Saundra Bianchi -- Director of Marketing, HMV Canada Inc.
Richard Cureton -- Executive Producer, SPY Entertainment
CraveFest is an International Music Video Festival dedicated to providing artists and fans with a new channel for exposure and discovery. Artists are invited to submit their videos to cravefest.com, while fans are encouraged to watch, rate and vote for their favourites. The top voted videos are reviewed by a panel of credible judges who determine the final Music Video Award winners.
CraveFest is made possible by the support of dedicated sponsors including: HMV, Maxell, KICKER, Rockstar, JL Audio, Gem-Sen and Ink.
CraveFest has content and distribution affiliations with DJlinks.com, Ultimate Indie TV, BPM TV, The Toronto Independent Music Awards and Vuze.
International musical artists, producers, directors, and record labels can find out more about how to submit music videos to the CraveFest Music Video Awards by visiting cravefest.com/about.
For media enquiries please contact:
Carolyn Mendlowitz, CraveFest Marketing Director
Tel: 905-660-3110 x 235
Fax: 905-660-3108
Contact CraveFest
###