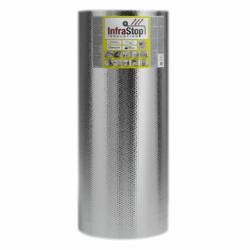 Indianapolis, IN (PRWEB) September 25, 2012
The choice on how to insulate a basement or crawlspace and which product to use is widely debated. Moisture and air infiltration as well as site specific considerations need to be determined. Fiberglass insulation has proved largely ineffective in insulating these areas. InfraStop™ Basement and Crawlspace Insulation System was designed to provide one effective material for all applications.
Common applications this system covers include crawlspaces, basement walls, under slabs with our without radiant heat, pipe wrap insulation, duct wrap insulation, and water heater blankets. "Reflective insulation performs exceptionally well in these applications. One reason is its resistance to moisture. Basements and crawlspaces are typically more moisture prone than other areas of the house." stated Nick Semon, owner of Insulation Stop.
"In heating seasons, radiant heat escapes through the floor of your living space into your crawlspace or basement. This can be especially wasteful if you have a ventilated crawlspace that allows cold heat robbing air from outside. The foil insulation blocks this transfer of heat and reflects it back toward the living space. The same concept applies in the other applications as well. A radiant barrier, by definition blocks the transfer of radiant heat. Using reflective insulation in any application in this system is a great, low cost investment to reduce your heating costs."
For more information on radiant barrier and reflective foil insulation, please visit InsulationStop.com.
Nick Semon is co-owner of Insulation Stop. They offer individual and bulk orders of U.S. made radiant barrier and reflective bubble foil insulation products for commercial and residential use. The company is committed to offering extensive knowledge on the use and application of its reflective insulation products.