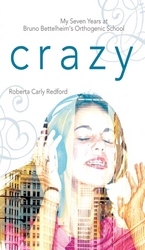 Peyton, CO (Vocus) October 28, 2010
There's an old yogic saying: You are your best teacher. Like many of the tenets of an age-old practice, that's easier said than done. Anyone who has gone against the grain knows just how difficult, just how disheartening it can be. In an amazing testament to the power of being yourself, Roberta Carly Redford's memoir Crazy: My Seven Years at Bruno Bettelheim's Orthogenic School (published by Trafford Publishing) details the beautiful possibilities inherent when you bump against convention.
In February 1967, Redford found herself living at Chicago's Orthogenic School, a school for "emotionally disturbed children." Redford would spend seven years at the school, trying to resist the pressure to become someone she was not. As she tried embarking on the journey of self-realization, she was told that she was crazy and incapable of functioning in the world. It was only with the help of the other patients that she realized, years later, she had been right all along, and the best person she could be was herself.
An excerpt from the preface of Crazy:
Crazy, as so many other things in life, is in the eye of the beholder. Once you're labeled by others (crazy, smart, helpless or supply your own adjective), it's almost impossible to make the name-callers see you differently. They will filter everything you do through that "crazy" light, and suddenly, what might be forgiven or dismissed if done by someone else, becomes just another symptom for you, one more "proof" of your alleged illness.
Redford's memoir gives an unprecedented look at society's penchant towards experts, the work of a controversial child psychologist and the benefits of trusting your instincts. Crazy is an enthralling read that illuminates the innate aptness of the human spirit.
Roberta Carly Redford resided at the Orthogenic School for seven years (1967-1974). Bruno Bettelheim was the director during her stay, and she describes his relationship with her and the other patients. Redford has a degree in criminal justice from the University of Wyoming and is now studying art and music. She also rescues sick and unwanted cats. For more information, visit http://www.robertacarlyredford.com.
Trafford Publishing is a premier book publisher for emerging, self-published authors. For more information, please visit Trafford publishing.
###