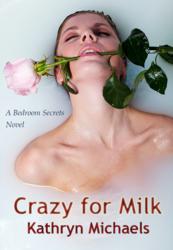 "I wanted to be ready.
I had thought I was ready.
I really believed I was ready.
That is, until the milk came."
- Crazy for Milk
(PRWEB) June 25, 2013
It's summer time – the top season for births in the US. Every mom-to-be wants to be happy and entertain only good thoughts during her pregnancy, without worrying too much about the aftermath when she has to start breastfeeding her newborn infant but it isn't easy. Not everyone can be happily obsessed with breastfeeding like Kim Kardashian. The reality – there are many common problems faced by millennium moms who have just given birth that have been swept under the carpet for far too long.
So, what don't new mothers expect?
After nine months of pregnancy, the last thing a new mother expects to experience is to wake up in the morning and find herself:

In the body of a stranger. She no longer finds comfort or familiarity with her body as she tries to breastfeed her infant while struggling with pain, physical exhaustion and sleep deprivation.
Sleeping with the enemy. With the introduction of a new baby into the family, a new mother often finds herself fighting with her partner as they suffer from a loss of intimacy and communication.
Lost and alone. Overwhelmed by guilt, insecurity and her fear of unmet expectations, she could be suffering from post-partum depression but unwilling to admit it to anyone. Not an unlikely scenario since approximately 13 percent of pregnant women and new mothers experience depression in the United States.
Don't give up – on yourself, your child or your partner.
Breastfeeding can continue if the new mother manages her expectations.

Connect with other mothers on the La Leche League Mother-to-Mother Forums.
Seek help from a lactation consultant or a doula, who can assist by providing information, physical assistance and emotional support.
Don't be a superwoman. You don't have to do everything by yourself. Reach out to friends and family for help. Hire a cleaning service.
Call your doctor who can ask you questions to test for depression, or refer you to a mental health professional who specializes in treating depression.
Kathryn Michaels is the author of Crazy for Milk, a reality-inspired novel which takes the reader through the journey of a millennium mom as she tries to be the everything to everyone – the perfect wife, mother and employee – and her experiences as she learns to deal with physical exhaustion, sleep deprivation, guilt, intimacy, loneliness and fear. Her books are released by Islandreamz Publishing and available on Amazon, at http://www.amazon.com/Kathryn-Michaels/e/B00AQKP6Y4. For more information about her books or Kathryn Michaels, please log on to http://www.writemekathryn.com/. Members of the media who wish to review her books may request a complimentary copy by contacting the publisher, Islandreamz Publishing at +1 (416) 275-5195.