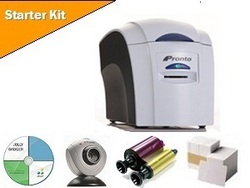 Starter kits simplify the start-up process for customers tasked with implementing an ID card system or membership card program, yet who are unsure where to begin or what supplies are required
West Sacramento, CA (PRWEB) March 15, 2011
ID Card Group, a leading provider of ID card printers, ID systems, supplies, and accessories is now offering customized starter kits for all ID card printers.
Starter kits simplify the start-up process for customers tasked with implementing an ID card or membership card program, yet who are unsure where to begin or what supplies are required.
ID Card Group offers two types of starter kits – basic and complete - to serve the differing needs of small to large organizations. Each starter kit is specifically created by ID Card Group to offer the best components at an affordable cost.
Basic starter kits include an ID card printer, color card printer ribbon, and a supply of blank ID cards, typically made of plastic PVC. The basic starter kit is suited for customers who do not require photo identification and who desire a simple card design.
Complete starter kits add photo ID software and a web cam for photographs to the basic kit contents. The complete starter kit is suited for customers who require photo identification and desire more card design template choices.
All the starter kit's components can be purchased separately at IDCardGroup.com, but have been bundled for convenience and cost savings.
"Not only do starter kits take the hassle out of starting an ID system or program," said Mark Soeth, ID Card Group president, "they are easy to order. After choosing the best ID card printer for the organization's needs, customers simply choose a basic or complete starter kit as an add-on option."
To get an ID card system or program up and running with a starter kit, customers set up the printer, following the installation manual instructions; install the ribbon; and load the cards. Next, the customer installs the printer driver on the computer, along with the photo ID software and web cam. After capturing photos, selecting the card design template, and providing cardholder information, the cards are printed in the same way one prints from a desktop computer.
ID Card Group offers a wide range of ID card printers and starter kits from leading manufacturers, such as Magicard, Zebra, Fargo, Evolis, Datacard, and Nisca.
To help customers understand the myriad choices in ID card printers and printing options, ID Card Group has provided a 5-part how-to series on Choosing an ID Card Printer. The series reviews the top factors in the purchase decision, including card printing volume, desired appearance, and security options.
Customers can access these resources via the ID Card Group Blog or from the ID Card Printers section of the website.
About ID Card Group
ID Card Group offers a full line of ID card equipment, supplies, and accessories – from identification and access control products, to promotional products for loyalty or membership programs, to gift, payment, or phone cards and systems. Industries such as business, schools, government, military, law enforcement, healthcare, gaming, hospitality, trade shows/conventions, sports & entertainment and more choose ID Card Group for its selection, expert service, and low price guarantee. To learn more, call (877) 868-0012 or visit http://www.IDCardGroup.com.
# # #