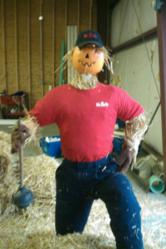 Dryer venting can be used if you're going for a metallic robot look. Shopping bags stuffed with newspapers or foam can help create a full torso.
Youngstown, Ohio (PRWEB) October 24, 2012
Expert Plumbing Tip: How To Build A Scarecrow
The arms, legs and torso of your scarecrow must be sturdy to withstand Mother Nature. Winds, rain and sun will all wreak havoc on your scarecrow. That's why Mr Rooter plumbing technicians from Youngstown, used PVC pipe to build their scarecrow! Mr Rooter Plumbing Youngstown is participating in the "Scarecrows In The Park" event at Greenville, Pennsylvania's Central Park, beginning Wednesday, October 24, 2012.
Mr Rooter's scarecrow will be on display at the Greenville Central Park. Admission to the park to view the scarecrows is free. Driving directions can be found here.
The parade will begin at Riverside Park and take the following route: Alan Avenue to Shenango Street to Water Street and left on Main. The parade will continue up Main Street ending in Central Park where the winners will be announced. Judging of the scarecrows, parade floats, marching bands and costumes will all take place in Greenville's Central Park. Trick-Or-Treat will follow from 4:00 p.m.—6 p.m.
PVC pipe is a good start for the scarecrow's skeletal frame, and plumbing technicians, Dan Bates, Sam Price and Dave Bass suggest these basic supplies. PVC pipes are attached to each other with joint pieces and PVC cement (note: Elmer's glue is not a good substitute and will not hold). The joints — which come in 45- and 90-degree angles — actually create different arm and leg positions based on how they're used. If you don't have PVC cutters, a hacksaw will work just as well to cut pipe if necessary.
Mr Rooter Tip Of The Day
Tip #1 Make seven marks on the 20-foot length of 3/4-inch PVC pipe with a tape measure and marker. Begin by measuring and marking four-18-inch pieces of PVC pipe. One piece the height of your scarecrow and two pieces that are half the shoulder width each. Cut through the PVC at each mark with a small-tooth saw.
Tip #2 Drill a hole through the center of the four-way cross joint and the center of the 3/4-inch PVC end cap with a 3/8-inch drill bit. The center of the cross joint is the apex where all the ports meet. Flip the cross joint over and drill a hole through the center of the other side with a 7/8-inch drill bit.
Tip #3 Flip the cross joint back over and align the end cap's hole with the hole in the cross joint. Turn a 3/4-inch long, 3/8-inch thread bolt and washer through the drilled holes. Turn the cross joint over and thread a nut onto the bolt threads inside the cross joint. Use a socket wrench to tighten.
Tip #4 Place the cross joint assembly open-cap up. Slide the four 18-inch PVC pieces into the four ports on the cross joint. Pop the PVC section that is the height of the scarecrow into the end cap. Fix a 3/4-inch PVC T-joiner onto the top of the height pipe and pop the two shoulder pipes into the open ports of the T-joiner.
Keep in mind you have to dress your scarecrow, and some clothing will not stretch over the frame once the joints are glued in place — such as if the arms are outstretched or in a weird position. Mr Rooter recommends a dry fitting before you apply the cement.
Second, the body
Common household items can be used to fill out your scarecrow's body.
Plastic water bottles, 2-liter soda bottles (if you want extra muscle) and even cheap plastic gardening pots fitted over the PVC frame can be used to fill out a scarecrow's arms, legs and torso. All you'll need to do is maybe cut in some larger holes to fit over the frame. Rolled-up newspapers wrapped in plastic also make good arms and fit well over the PVC pipes. Protecting the paper is important, however, since your scarecrow will likely get wet.
Insulation foam used to wrap household pipes can also fill out arms and legs, particularly if you want skinny arms and legs. Dryer venting can be used if you're going for a metallic robot look. Shopping bags stuffed with newspapers or foam can help create a full torso.
"You can build them up with whatever you want as long as it's waterproof," Mr Rooter plumbing technicians agree.
There's A Reason They Call Us Mr.™
Debra Santavicca PR, SMM, WebIT
Mr. Rooter Media Center
724-553-9510
http://www.rooter2.com