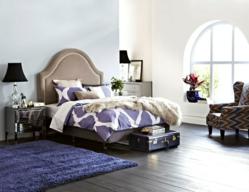 Melbourne, Australia (PRWEB) October 19, 2012
In response to consumers' ever-growing desire to personalise the look and feel of their homes, Snooze has introduced a brand new range of headboards and sofa beds. The range enables customers to select shapes, colours, fabrics and materials to create their very own personal piece of furniture.
Snooze's Lifestyle and Product Manager, Adrian Galiazzo commented, "Moving forward we can see a clear trend of customers having a greater input in creating a total bedroom, and lounge room, solution to both meet their needs and suit their tastes."
Found at Snooze, the range includes stylish and affordable headboards, either sold separately or with the option of a matching upholstered base. These bed heads come in a wide range of fabric options and three different headboard shapes. Mix and match these to create your own look.
Snooze's new range of sofa beds allows customers to maximise space and serve as a functional and elegant addition to the home. Ideal for those short on space or for when unexpected guests stay over, Snooze's new sofa beds can be upholstered in a wide range of fabrics and accompanied with fantastic accent cushions to suit your style.
Mr Galiazzo continued, "At Snooze we understand how important it is for the customer to be involved in selecting the perfect product, so we're pleased to be able to deliver further options for people to express their own style."
To match your bed to your colour scheme, choose from a range of natural colour tone upholstery from Warwick and Zepel, creating a refreshed look on any budget.
To find out more about Snooze and its products, or to locate a store near you, visit http://www.snooze.com.au.