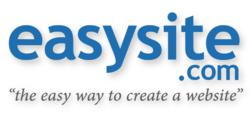 (PRWEB) April 25, 2013
Easysite.com was born into the industry back in 2005 helping just about anyone create any type of website they could think of. Over the past few years Easysite began to see the demand grow from business owners looking to create a professional website. After around the clock dedication, two years later (early 2013) Easysite launched a new business website platform and package that was developed just for business owners as it caters to their needs with functionality such as SEO benefits, social media integration, forums, online shopping pages, blogs, photo gallery, HD video plugins, etc. Since its arrival Easysite has seen a dramatic increase in new business customers that are extremely excited to see such an affordable and professional type of platform that elevates their business to new heights.
For other types of business owners that actually want a "do it yourself" platform where they are in control, Easysite provides that too! There is no up front fees to get set up, just a monthly fee of $19.95 which includes free phone support (if a business owner needs to know how to manipulate or update their website), video support and email support. The cost also includes unlimited hosting as well as daily backups of websites. Easysite customers have claimed that other companies such as WIX have been too complicated to use and wish they had found the easier site to go with (Easysite.com) a long time ago.
For any more information on Easysite please visit their website at http://www.Easysite.com.