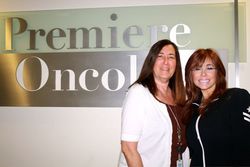 It's private, it's discreet…and goes way beyond the hair. It's about taking control when you are a cancer patient.
Los Angeles, CA (PRWEB) August 3, 2010
Amy Gibson, founder of CreatedHair.com and Salons expands her private recovery hair wigs salon in conjunction with Premiere Oncology by opening a second facility at their research affiliate, Pacific Oncology and Hematology Associates Inc. (POHA) in San Diego.
The international wig designer and country's leading personal consultant to women afflicted with medically-related hair loss opened a salon earlier this year at Premiere Oncology. Seeing "a really big difference" with the new salon, Robbie Gluckson, Executive Director of Premiere Oncology Foundation says, "We want support services in every part of our patient's life that are the best of class—and that's where Amy Gibson falls and why we partnered with CreatedHair.com."
Regarding patients' experience with Created Hair Salons, Gluckson adds, "It's a combination of her many years of experience working with cancer hair loss and her own experience of living with Alopecia. Amy makes patients feel better when they're done with the consultation…they walk in with such a heavy burden and walk out in a completely different place feeling empowered and in control."
More than simply providing hair wigs for those with hair loss, Gibson teaches clients what to do before losing their hair, ways to strengthen re-growing hair, how to have intimacy while wearing a wig and a way to feel whole and good about themselves in spite of what can be a debilitating loss of self image, sensuality and confidence.
Gibson, who suffers from medically-related hair loss since the age of 13, consults, sells wigs online and operates her personal brand of private salon in Los Angeles including one at the unique alternative medicine facility, Beneveda Medical Group. She says, "Over 40 million women are living with traumatic hair loss in the U.S. alone. Taking my image guidance and counseling into these initial cancer treatment centers is the first step towards developing this model at a national level."
CreatedHair.com Salons are personal, private, discreet and by appointment only. To learn more, seek guidance through Amy's support and education programs, Amy's Wigs Workshops and the Pearl Program, purchase a wig or schedule an appointment, visit CreatedHair.com or call Toll-free at 877.FOR.WIGS (367.9447)
About Premiere Oncology and Premiere Oncology Foundation
Premiere Oncology is a center of excellence dedicated to treating cancer patients by providing comprehensive and holistic clinical care with attention to issues of survivorship and longevity. The group provides standard hematology and oncology care and is internationally recognized as the leading private Phase I oncology research clinic. In addition to its Santa Monica facility, Premiere Oncology has a research affiliation with Pacific Oncology and Hematology Associates Inc. in San Diego. Premiere Oncology's flagship research and treatment center is located in Santa Monica, California where it is affiliated with the Saint John's Health Center and the John Wayne Cancer Institute.
The Premiere Oncology Foundation is committed to the belief that every person who battles cancer deserves access to the best and most innovative treatments available. The foundation provides patients with easy access to a complete range of integrative medical support services.
Pacific Oncology and Hematology Associates Inc. (POHA) of San Diego supports the Premiere Oncology vision to provide patients with effective treatment options and local access to clinical trials. POHA offers hope for patients seeking innovative treatment and research opportunities with offices in La Jolla, Poway, Encinitas, Escondido and Vista.
About Amy Gibson & CreatedHair.com
The designer of an international wig line, first Women's Swim Wig and the first Women's Intimacy System, national spokesperson and alopecia activist Amy Gibson is the country's leading personal consultant to women afflicted with hair loss. An Emmy-nominated soap star and former spokesperson and designer for one of the largest wig companies in the world, Gibson has suffered from Alopecia Areata since she was 13. Her company, CreatedHair.com and Salons, provides her exclusive line of wigs as well as consulting through her programs such as the Pearl Program which teaches women how to have intimacy while wearing a wig without their partner finding out and her recently launched national support group, Amy's Wigs Workshops.
Gibson has frequently contributed to WebMD, spoken before the State Legislature of California and has appeared in the national media on FOX Nightly News, NBC Nightly News, ABC News, CNN, The Today Show, The Insider, The Tyra Banks Show and in People Magazine and Woman's Day.
For more information about cancer hair loss or CreatedHair.com and Salons or to schedule an interview, visit CreatedHair.com or call 877.FOR.WIGS (367.9447)
###