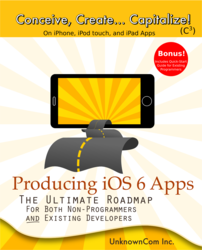 As an existing Apple iPhone, iPad, and iPod touch developer for these past few years, this book represents everything we've learned about programming iPhone apps and iOS App Development the hard way: So you don't have to. – David Rajala, President
(PRWEB) October 23, 2012
Unknown.com is excited to announce the publication and release of "Producing iOS 6 Apps: The Ultimate Roadmap for Both Non-Programmers and Existing Developers" which is now available for immediate purchase on Paperback at Amazon.com, as well as major eBook outlets such as the Apple iTunes iBookstore, Amazon Kindle, Barnes and Noble Nook, Google Play Books, Kobo Books, and more!
Originally generated from an existing app company's internal and highly-confidential training guide, the book contains closely guarded app business secrets used to teach new employees the business of app design, development lifecycles and methodology. Contributions are from the entire development staff; as well as considerable contributions from marketing, management, and even the legal department. The entire company came together as one in order to produce this comprehensive guide to running a business in the competitive iPad and iPhone app space.
The goal of this book is to be the complete guide and reference for every situation that may arise while establishing a business for creating iPhone apps and iOS App Development, as well as how to program iPhone apps with cross-platform development for Google Android and other mobile platforms. Readers will find everything they are required to know in order to get their iPhone, iPod touch and iPad apps built and listed in the App Store and how to get paid.
Due to its very nature, this book contains many commonplace and relevant topics to today's app-related business issues, such as the latest "legal landmines" to avoid, modern app design, the latest in code development, how to program iphone apps, and even avoiding programming altogether for app development - all specific to iOS and the App Store.
As indicated by its title, "Producing iOS 6 Apps: The Ultimate Roadmap for Both Non-Programmers and Existing Developers" is essentially two books in one. Non-Programmers will find the secrets to build iPhone apps and successfully marketing them without programming skills, while Existing Developers will enjoy an incredibly detailed Objective-C jumpstart guide to help them take full control and save time while doing so. In fact, all who read the book will also benefit from the business management experiences and the shared legal insight.
This must-have book also covers the newly released Xcode 4.5, iOS 6, and iPhone 5 development tools, and contains:

Easy to Follow Tutorials with an Introduction to Cross Platform Development
Avoid Programming with disclosed Alternatives to Apple's Xcode
Create an app once; simultaneously deploy it for Apple iPhone iOS, Google Android, and others
Step-by-Step Walkthroughs for Setting Up Necessary Accounts and Getting Started Quickly
Detailed Guides and Example Code for Alternative Development Methods
Revelation of Experience-Based Business and Development Secrets
Optimized Marketing Tips to Capitalize on Both Paid and Free Apps
Marketing an App: Strategies to Use Before and After the Upload
Obtaining Legitimate Assets – such as Graphics - Without any In-House Talent
Legal Taboos and Things that Defy All Logic
David Rajala, President of Unknown.com, Inc. comments, "As an existing Apple iPhone, iPad, and iPod touch developer for these past few years, this book represents everything we've learned about programming iPhone apps and iOS App Development the hard way: So you don't have to."
Available in both Paperback and eBook Editions
Paperback Edition: $29.99 US | £19.99 UK | $34.99 CN
ISBN-10: 0988337819 | ISBN-13: 978-0-9883378-1-7 (9780988337817)
The Paperback Edition is available for immediate purchase at: http://www.amazon.com/Producing-iOS-Apps-Non-Programmers-Developers/dp/0988337819
Electronic (eBook) Edition: $19.99 US | £14.99 UK | $24.99 CN
ISBN-10: 0988337800 | ISBN-13: 978-0-9883378-0-0 (9780988337800)
Additionally, all book editions include access to its free source code examples as downloadable content from the company website at: http://apps.unknown.com/book/producing-ios-6-apps-the-ultimate-roadmap-for-both-non-programmers-and-existing-developers which also provides a complete listing of worldwide Paperback and eBook availability, currently: Apple iTunes iBookstore, Amazon Kindle, Barnes and Noble Nook, Google Play Books, Kobo Books, and even more distributors added soon!
About Unknown.com, Inc.
For years, UnknownCom Inc. has capitalized on Apple iOS (iPhone, iPad & iPod Touch), Mac OSX, and Android mobile app development. UnknownCom Inc. is an Apple iOS, OS X, and Safari, as well as Google Android, Research In Motion Blackberry, and Microsoft Windows developer.
Key members of UnknownCom, Inc. have been involved in producing hundreds of mobile apps over the years, including several #1-ranked apps - which combined, have been downloaded millions of times over the years - either under, by, or for various employers and or clients, as well as UnknownCom Inc.'s own stand-alone products (some of which confidentially in an "unknown" capacity, with others distributed both directly, as well as indirectly, by partners and/or affiliates, etc.).
Just a few of the more well-known mobile apps proudly contracted and distributed by UnknownCom Inc. include: Hollywood movie studio LIONSGATE's official Saw 3D Jigsaw Your Voice, for fans of their terrifyingly famous Saw horror movies. As well as Johnny Brennans official The Jerky Boys Prank Caller, and The Jerky Boys Pinball, for fans of his hilariously famous comedy routines.
The team at UnknownCom Inc. is a staff of highly dedicated, experienced individuals whose areas of expertise covers all aspects of creating iPhone apps, desktop, web, and cross-platform app development on many mobile devices, including Apple's iOS, Google's Android, and more.
Visit UnknownCom Inc's author pages located at Amazon or Barnes and Noble for more information.