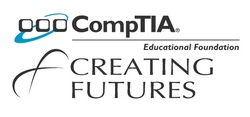 The grant is much more than a monetary gift to the Creating Futures organization, and all the people who are fighting to provide transitioning U.S. veterans, individuals with disabilities, youth-at-risk and dislocated workers opportunities to build lifelong, productive and rewarding careers in IT
Oakbrook Terrace, Ill. (Vocus) August 13, 2008
The Computing Technology Industry Association (CompTIA) Educational Foundation announced today that it has received a $10,000 grant from the Lenovo Hope Fund, a philanthropic fund created by Lenovo Group , a global leader in the personal computer market.
The money will be used in the Creating Futures program, which is helping to address the need for skilled high-tech workers by training individuals from under-utilized groups, including military veterans, at-risk youth, disabled workers, and dislocated workers. Creating Futures was selected by the Lenovo Hope Fund to receive the grant from more than 40 applicants from around the world, according to John Mayr, vice president, worldwide service operations and delivery. Mayr nominated Creating Futures for the award because he greatly believes in its cause.
"The grant is much more than a monetary gift to the Creating Futures organization, and all the people who are fighting to provide transitioning U.S. veterans, individuals with disabilities, youth-at-risk and dislocated workers opportunities to build lifelong, productive and rewarding careers in IT," said Mayr. "The support of a company with the global reach and reputation of Lenovo provides a tremendous emotional boost to individuals from these areas each day."
The Lenovo Hope Fund was created to reward employees who are acting as "social entrepreneurs" by putting their skills knowledge and time to use in helping others.
"We are extremely grateful for the support of Lenovo Hope Fund," said John Venator, president and chief executive officer, CompTIA Educational Foundation. "Creating Futures is important not just for high-tech companies, but for companies across all sectors of our economy. Virtually every industry relies on technology to conduct business. They also rely on a skilled IT workforce to manage their technology infrastructure. Through this training effort, we are reaching out to new groups of talented individuals who are ready, willing and able to contribute to the growth and success of our industry."
About Lenovo
Lenovo strives to be a new world company that makes award-winning PCs for its customers. Lenovo operates as a company uninhibited by walls or organizational structures using world-sourcing to harness the power of innovation across its global team. Lenovo designs innovative and exciting products and services to meet its customers' needs. For more information, please visit http://www.lenovo.com.
About the CompTIA Educational Foundation
Established in 1998m the CompTIA Educational Foundation continues its mission to develop qualified and productive entry level IT workers with the hopes of eliminating the skill shortages within the industry. The Foundation receives support from individuals, industry leaders, companies, and the government through contributions and grants, giving hundreds of people opportunities to pursue IT careers. For more information, please visit http://www.creatingfutures.us/.
About CompTIA
The Computing Technology Industry Association (CompTIA) is the voice of the world's $3 trillion information technology industry. CompTIA membership extends into more than 100 countries and includes companies at the forefront of innovation; the channel partners and solution providers they rely on to bring their products to market and the professionals responsible for maximizing the benefits organizations received from their technology investments. For more information, please visit http://www.comptia.org.
Contact:
Kara Kersh
Manager, Public Relations
CompTIA
630-678-8464
kkersh @ comptia.org
# # #