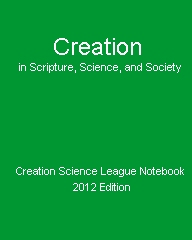 to share an understanding of creation in science and Scripture
Livingston, TX (PRWEB) November 14, 2012
The Creation Science League continues the battle against the fallacies of Evolution with a new Creationism resource. The 'Creation in Scripture, Science, and Society' notebook serves by outlining the evidence for Creationism and is designed to work with the information available from the Creation Science League, League members, and many other creationist websites and organizations.
The 2012 edition of the Creation Science League notebook supports Creationism on four major fronts. It explores the great questions and meaning of life with emphasis on the answers given by both Creation and Evolution. It examines scriptural creationism by studying the original creation week and a view of history based on the special relationship the Creator has with mankind. This book engages scientific creationism in both the physical and life sciences demonstrating that science supports Creation and not Evolution. It also confronts the social impact of Creation and Evolution on philosophy, religion, and society.
The League's primary goal is to share an understanding of creation in science and Scripture with the public as cheaply or freely as possible. In following this goal, the League has chosen to disregard profit and is offering the notebook at the manufacturing price.
Todd Elder, a young earth creationist, founded the Creation Science League in 2011. The League's membership consists of individuals and organizations who volunteer their time or materials toward the League's goals.
The Creation Science League website can be found at http://www.creationleague.info. The 'Creation in Scripture, Science, and Society' notebook is available through most major book retailers.