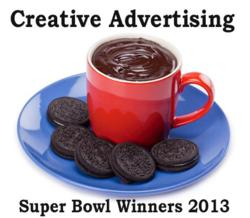 "Sunday's power outage provided the perfect surprise for brands to pounce on creatively. By empowering brands to make strategic decisions on the fly, companies and their agencies can execute on smarter media plays," Harvard Business Review.
Minneapolis, MN (PRWEB) February 09, 2013
Whether or not a fan's favorite team won the Super Bowl, this year viewers are remembering the advertisements that won marketing hot spots. When a power surge cut electricity to the Baltimore Ravens and San Francisco 49ers game at the Mercedes Benz Super Dome in New Orleans, advertisers who were fast in their thinking game became advertisement entertainment on their own merit.
Integral Media's owner Eric Sims, commented, "Marketers that respond to media events in real-time as they unfold, and creatively revise a brand into the conversation in a way that entertains and supports your brand proposition can be the most powerful marketing of all."
Creative Advertisers Flourished During Super Bowl's Blackout
The press that took this year's Super Bowl by surprise was less about Baltimore topping San Francisco 34-31, and more about the savvy advertisers with creativity that grabbed the media moment. Knowing their brand message inside out, within moments of the power outage, advertising's messages filled in a few dark gaps with fabulous creative advertising quibs that humored viewers.
Advertisers Review
While sport enthusiasts are still taking about the game, a lot of business advertisers are enumerating over what marketing went terrific for them and what magazine advertising, that accompanied their digital press, put them out in front, and was the timing of marketing messages fine-tuned enough. The "norm" topics curtaining have place for discussion and review for next year's Super Bowl advertising and marketing planning.
Creative Advertisers Flourished During Super Bowls Blackout
Marketers worked well in advance to deliver advertisements that would yield the most brand visibility and engage purchasing audiences. Deeply integrated media buying with well developed strategies and seamless execution certainly keep competitive brands sharp and in the Super Bowl's prime time. Yet what thrilled viewers were the marketing improvisations that certainly built entertaining brand images in an amusing manner that will be long remembered.
Integral Media's Favorites From Super Bowl's Creative Advertising:
1) Oreo - "Power out? No problem. You can still dunk in the dark."
2) Tide - "We can't get your #blackout. But we can get your stains out."
3) Audi - "Sending some LEDs to the @MBUSA Superdome right now."
Cost Of Brand Advertising At The Super Bowl
"Brands like Samsung, Audi, Coca-Cola, Toyota, Budweiser, Volkswagen, and Mercedes-Benz—among others—are paying nearly $4 million per 30-second ad this year," stated Forbes Magazine in advance to prep the event viewers who get equally or more excited about the brand advertising than the game. Ad Age Media News noted in a February 1 article titled "Who Bought What In Super Bowl 2013" that CBS Interactive ad buyers had taken all slots for its ad inventory at prices falling between $3.7 million and $3.8 million.
Looking back, it is interesting to note a comment by Jason Norcross, Partner and Executive Creative Director at 72andSunny in the same Forbes article, "That said, I am interested to see what Wieden+Kennedy does on behalf of Oreo. They always seem to rise to the occasion on the biggest stages with resonant work for brands like Nike, P&G, Chrysler and Coke. Can they do the same for a cookie?" They certainly did.
It wasn't the first time Oreo gained such applauded notice for its creative marketing. Its advertising team came up with a winner in its Mars Rover salute or its June rendition of a rainbow Oreo.
Harvard's Business Review summarized the creative advertising at the Super Bowl by saying, "Sunday's power outage provided the perfect surprise for brands to pounce on creatively. By empowering brands to make strategic decisions on the fly, companies and their agencies can execute on smarter media plays that have small windows of opportunity, such as observing earned media trends and adjusting their paid media strategies to amplify them."
Since 1999, Integral Media's marketing consultants have delivered efficient, smart media solutions to clients across the nation. Contact Integral Media for your integrated buying needs. Call 952-470-5254.