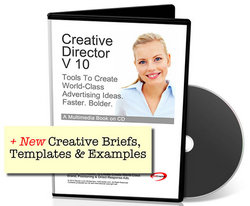 "A creative brief is the first, and the most important document, in any communications campaign." Steve McNamara, international award-winning Creative Director.
San Clemente, CA (PRWEB) June 29, 2010
Smart marketers use a creative brief to specify a communication or sales objective, and provide the creative team with the information to accomplish that objective. Today, advanced creative briefs ask for consumer insights, probe psychological tensions related to the purchase decision, as well as explore imaginative ways to use media, such as ambient and social media.
"To update our creative briefs, we interviewed marketers and strategic planners in Europe, Asia and North America. And collected feedback from over 300 writers and art directors," said Steve McNamara, AdCracker.com's Creative Director.
According to McNamara, "A creative brief is the first and the most important document in any communications campaign. It's the road map to capturing attention, inspiring interest and motivating sales action."
The AdCracker creative briefs cover every type of advertising project, from TV to print ads, from emails to websites, from digital direct response to social media campaigns.
The AdCracker creative brief templates are copyrighted and used daily by ad agencies, marcom groups, freelancers, and design shops from Singapore to San Diego. Highlights include:

An instructional video that is packed with expert How To tips based on high-performing campaigns for Citibank, Apple, Motorola and Capital One.
An Advanced Creative Brief for new business pitches, new product launches, and new campaigns.
A Social Media Brief that addresses the challenges of creating campaigns for social media, such as Facebook or a company blog.
A Long Format Brief for websites, brochures or videos.
A Direct Response Creative Brief for projects that ask for action, whether clicks or calls or a visit to the store.
The new creative briefs are available at the AdCracker store on the Creative Director and the Creative Manager CD sets. AdCracker also offers creative brief seminars featuring international best practices in brief writing.
About AdCracker.com:
Launched in 1999, AdCracker.com creates learning and creative development programs for advertising professionals. AdCracker's popular Creative Director and Creative Manager CD-ROM sets are used in over 100 countries for training and idea generation by ad agencies, Fortune 500 marcom departments, schools and small businesses. For sales and product information, please visit http://www.AdCracker.com.
###