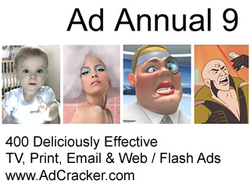 The genius of 'Marlene' is that it connects emotionally with the audience and leverages that emotion to attack the competition
San Clemente, Calif. (PRWEB) January 28, 2009
The TV commercial "Marlene" for cellular service Net10 is #1 on AdCracker.com's annual list of the world's 10 best advertisements.
"The genius of 'Marlene' is that it connects emotionally with the audience and leverages that emotion to attack the competition," said Steve McNamara, AdCracker.com's Creative Director. "The spot is part of the aggressively competitive 'No Evil' campaign created by Droga5 in New York."
This year seven TV commercials and three print ads comprise the top 10 ads, which are selected by AdCracker.com subscribers for excellence in branding, positioning, and direct response advertising techniques.
The winners include a talking food stain, a man made of chocolate, and a tongue-in-cheek product recall ad from Germany. Highlights:
#2 "Thin" by TBWA / Media Arts Lab, Los Angeles, for Apple Inc. This TV spot positions Mac Air as the world's thinnest notebook. But it is the wispy and emotional sound track - New Soul by Yael Naïm - that lifts this commercial off the screen and into the top 10.
#3 "Correct your Age" by Saatchi & Saatchi, Moscow for Procter & Gamble brand Olay. Here come the Russians with a print ad that uses a clever visual to show how a dab of Olay can instantly remove five years from your age. Proving once again that simple sells.
#4 "Talking Stain" by Saatchi & Saatchi, New York for Procter & Gamble brand, Tide-To-Go. P&G has a reputation for ads that are effective but unimaginative. Promise a benefit. Solve a problem. That sort of blah blah blah. But this TVC combines multiple advertising techniques, such as personification, to leap from the screen and tickle your toes.
#5 "Dark Temptation" by VegaOlmosPonce, Buenos Aires, for Axe.
What do women crave? What drives them crazy? Chocolate, of course. In this TVC a little Axe deodorant turns a young man into Mr. Chocolate, a walking hunk of dark delight that triggers uncontrollable desire in the finer sex.
See all 10 winners at AdCracker.com
About AdCracker.com:
Launched in 1999, AdCracker.com publishes an annual collection of the world's best ads. AdCracker also conducts live training seminars for marketing and advertising professionals. AdCracker's popular Creative Director on CD-ROM is used in over 90 countries by ad agencies, Fortune 500 marcom departments, schools and small businesses.
AdCracker.com is a leading online destination for advertising and marketing professionals interested in creative briefs, creative advertising ideas, advertising techniques, brand positioning, product positioning, advertising strategy, advertising plans, advertising training, advertising workshops, consumer involvement theory as well as classic and contemporary advertisements.
###