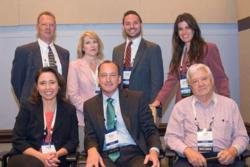 (PRWEB) June 12, 2013
A panel that included the two largest management companies in the US discussed changes in overall marketing strategies dictated by the internet. One of the stated goals was to be able to complete the entire transaction from initial search to move-in. This will require differentiating one community from another on-line. Dan Hayes, president of Creative Laundry Systems, Inc., advocated making the laundry an integral part of that process.
Laundry is an essential life function that is so basic that it is overlooked by architects, developers and apartment marketing departments according to Hayes. Developers generally consider it a low-value necessity and respond by putting the least expensive equipment in the smallest possible closet and closing the door because laundry rooms are usually the dirtiest rooms in an apartment.
A recent report by Apartments.com that showed that in-unit laundry was the most requested amenity in all the on-line searches. This indicates that laundry is much more important to every resident's daily life than is commonly recognized and significantly more important than most of the extras currently deemed to be essential in today's apartments.
There are several new products on the market that make it cost-effective to create laundry centers that combine energy efficient equipment, storage, sorting/folding areas and hanger bars in a compact space. Two key products are the 24" front-load washers and the PanStand.
The 24" washers offer the same capacity as 27" top-loaders while saving 20 gallons of water and two kilowatt hours of energy per cycle. They offer better cleaning with less damage and wear on clothes. They also occupy less space in the home.
The PanStand is a new product that combines a drainable washer safety pan, a 5" pedestal and an air-flotation device in a durable platform that works with any brand washer. The flotation enables installation in smaller, tighter, spaces without impairing the ability to service the machines. It also encourages owners to upgrade this amenity by installing a table, cabinets, or shelves directly above or beside the washer/dryer.
A third consideration is time. The goal is to make doing laundry as quick and convenient as possible. Most of the front-load washers have a time delay start. They can be set so the wash is just finishing when the resident returns home. PanStand provides the extra level of protection needed to make this feature practical. The center provides a place to fold and hang clothes coming out of the dryer. This can be done in a 52" wide area. A more compact center can be installed in a 40" wide space using a stacked set, but eliminating the table.
These designs make the room cleaner by eliminating dust and debris from under the washers. The built-in cabinet and shelf design also prevents junk from accumulating in the laundry room.
Laundry may be an essential life function but it is also part of the overall image of the home. Good planning and a few simple changes in equipment, can convert a low-value necessity into a rent enhancing amenity.