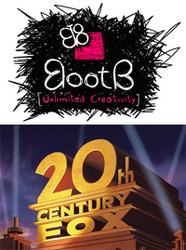 is brewing in the companies
Centennial, CO (PRWEB) January 29, 2009
BootB (acronym of Be out of the Box) is a web platform that connects creatives and brands from all over the world. First, creatives receive briefs from companies looking for creative ideas: anything from a new marketing concept, to an advertising campaign or brand design. Then, companies receive ideas from creative's -agencies, professionals or freelancers- from around the world. More than 10.000 creatives in 118 countries can read what "is brewing in the companies" and propose their creative ideas. All proposals are visible only to the companies that choose the winners … with a simple click!
20th Century Fox Home Entertainment Italy is the first company in the home entertainment industry that has asked BootB for help searching for the big idea to launch a title in a new one-of-a-kind way.
The movie's title was translated in Italian as "Ultimatum to the Earth", so… an ULTIMATUM TO ALL CREATIVES ON THE EARTH! 20th Century Fox Home Entertainment is looking for an innovative and impactful mechanic to launch the Blu-ray version at the beginning of April and influence sales of the DVD which will be available a few days later.
Alessandro Caccamo, Marketing Director of 20th Century Fox Home Entertainment Italy, commented: "We found BootB the ideal way to tap into the most innovative, creative minds, in order to communicate to the consumers the benefits of Blu-ray, the latest innovation in high definition."
Pier Ludovico Bancale, founder and CEO of BootB, added: "Why look for big ideas in a limited geography when we live in a global world? The most brilliant idea can come from anybody, anywhere. And the fact that a global icon like 20th Century Fox is launching "a creative ultimatum" on a worldwide basis confirms it. Outsourcing, meaning to give the job to a known entity makes way for crowdsourcing, which means giving the job to the best. 20th Century Fox will choose the winning solution without knowing who the author is. This way, a student in New Delhi has the same chance to win as a big agency in New York. For BootB neither fame nor the ability to sell ideas in board rooms count. Our business model is exclusively based on meritocracy. All ideas arrive online and the best wins".
"The Day the Earth Stood Still" is a movie rich in special effects which bring to life the science fiction. An exceptional cast plays in this remake of the '50s sci-fi classic: Jennifer Connelly in the role of the scientist Helen, who comes face-to face with Keanu Reeves in the role of the human-like alien Klaatu who has crossed the universe to warn humans about an impending global crisis.
The brief published by 20th Century Fox Home Entertainment and all necessary information to participate to the pitch are available on the website of BootB, in the section "All Pitches".
PRESS CONTACT:
20th Century Fox Home Entertainment Italy
Francesca Mele (francesca.mele(at)fox.com)
Alessandra Pancani (alessandra.pancani(at)fox.com)
BootB
Pier Ludovico Bancale (info(at)BootB.com)
###