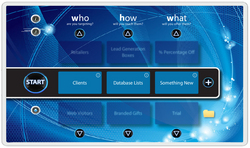 The key to developing a successful marketing strategy is the constant flow of fresh, creative marketing ideas, Marketing Brainstorm.com delivers that in just 5 seconds
London, UK (PRWEB) April 1, 2010
Marketing budgets are often one of the first casualties of a recession, and with stress levels high for business owners, becoming creative with marketing strategies often takes a back seat. When consumer spending decreases, companies have to work harder to find affordable strategies for developing and implementing their marketing campaigns.
Additionally, finding new and inventive ways to market products and services to a consumer base that is now more discerning about how and where they spend their money becomes critical. Marketing Brainstorm, a new online tool poised to revolutionize the way business owners and marketing professionals develop campaigns, helps companies do both by helping them generate thousands of cost-effective marketing ideas for small businesses and mid-sized businesses. And for a limited time, business owners and marketing professionals can access the tool for free.
"Typically during a recession, marketing budgets are one of the first expense categories to be cut, leaving companies to find creative ways to do more with less," said Simon Lovell, application developer. "MarketingBrainstorm.com eliminates business owners' need for marketing consultants and it helps marketing departments develop an infinite number of marketing ideas, even on a limited budget."
MarketingBrainstorm.com helps users develop tens of thousands of marketing ideas tailored to meet the needs and goals of businesses in any industry, regardless of budget. The software asks three major questions to help users develop campaign ideas or they can be generated randomly: Who are you targeting? How will you reach them? And what will you offer them? Within just 5 seconds, MarketingBrainstorm.com generates affordable marketing ideas and strategies that can be easily implemented. For example, the software might suggest targeting event participants via lead generation boxes, and offering a discount program designed to give participants a percentage off tickets or other products.
MarketingBrainstorm.com can be used by sole proprietors, marketing executives and entire marketing departments. When used by business owners, the software is ideal for helping to develop marketing ideas for small businesses for a new marketing plan or to revamp an existing marketing plan. When used by a team, the software can be used for team building exercises or to get the creative juices flowing during planning and strategy sessions and staff meetings. The software is also a useful tool for university students seeking insights into real world marketing strategies.
"The key to developing a successful marketing strategy is the constant flow of fresh, creative marketing ideas," said Lovell. "Our database is constantly updated so that you'll always have access to an endless reservoir of strategies. If you want to create brand awareness, promote new and existing products or successfully differentiate your company from your competitors, MarketingBrainstorm.com is one of the most powerful tools you can have in your marketing toolkit."
MarketingBrainstorm.com officially launches in May 2010. In addition to the online brainstorming tool, subscribers will have access to regular video tutorials and invaluable marketing seminars. For a limited time, web visitors who sign up during the pre-launch period will receive an extended free trial, and free marketing ideas for small businesses via email.
For more information and to sign up for a free trial and gain access to an infinite number of marketing ideas, visit marketingbrainstorm.com. For press access to the software please email info (at) marketingbrainstorm (dot) com.
###