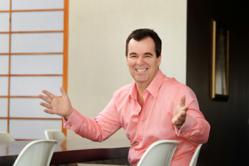 ....podcasts work for educators, and people are looking for creative property options
Sydney, Australia (PRWEB) November 14, 2011
Modern technology has changed the way we communicate, from emails and social networking sites through to SMS, VOIP calls and instant messaging. Always ready to embrace creative solutions to challenges, property investment coach, Rick Otton, is now successfully sharing his knowledge through podcasts.
An increasing number of people are leveraging the power of the 'i' by creating free, downloadable audio sessions tailored for iPod consumption: 'podcasts'. Already podcasts are being used to deliver school lessons, university tutorials, and 'how tos' in many different business segments.
"For years I have traveled the world teaching people how to become creative in property investing - how to shift the real estate purchase paradigm," explained Mr Otton. "To do this I have traveled extensively teaching students in the USA, UK and Australia about how to become property owners without the involvement of the banks."
"While I still conduct live workshops, by creating podcasts I have been able to share my teachings with a much wider audience, without me traveling to them, or them incurring any expense in coming to me," he continued.
As well as his podcasts appearing in iTunes, Mr Otton has launched a website, creativerealestate.com.au, where he adds the recordings of each podcast. On the site as well, it is possible to request the transcripts of the podcasts, for later reference.
The podcasts already loaded to creativerealestate.com.au include:
> Cash Flow Versus Capital
> The Power Of Private Lending
> The Truth About Investing in US Property
> Rent To Own - A Exquisitely Rewarding Property Investing Strategy!
> Change Your Mindset
> Its Not About The House!
"To say our podcasts have been successful is understatement. One of our first podcasts, an interview with one of my most successful students, top the iTunes charts within two days," said Otton. "This demonstrates two things to me: that podcasts work for educators, and that people are looking for creative property options."
The podcasts are absolutely free, and can be accessed at creativerealestate.com.au
About Rick Otton
Rick Otton is an original pioneer of creative property strategies. He is founder and CEO of We Buy Houses, a leading property enterprise which operates in the property markets of the United Kingdom, New Zealand, USA and Australia.
In 1991 he uncovered an innovative strategy of buying and selling real estate and went on to amass a portfolio of 76 properties in his first twelve months of active investing.
Since 2001, Rick has taught over 30,000 students to buy, sell and trade residential property without banks, debt or risk. By employing these same strategies many of Rick's students have made over a million dollars a year in cash and equity, using little or none of their own money, year after year.
In 2008 Rick revealed his strategies in the United Kingdom and became the creator of 'Houses for a Pound'.
He has appeared in the following Australian TV programmes: 2004 ABC documentary 'Reality Bites' and on Today Tonight, Insight and A Current Affair. In October 2007 Rick gave a way a house on national TV during 2 episodes of Channel 9's Hot Property.
Rick Otton has also been featured in Your Property Network, Australian Property Investor, Lifestyle Trader Magazines and in the books: The Secrets of Property Millionaires Exposed!, Ideas: Original Perspectives On Life and Business From Leading Thinkers, Think and Grow Rich in Property, Insider Property Secrets, and Walking With The Wise.
Rick Otton can be contacted via his website http://www.rickotton.com
###