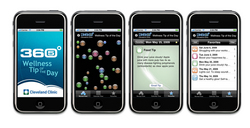 "Can I give this one a 15? Because it makes all my other 10's look like 5's."
Louisville, KY (PRWEB) May 13, 2010
Winners from the Creativity International 40th Media Competition are now being featured online on the winner's pages. Also being announced for the first time are sponsors for the 40th Print Competition.
"Love the concept, design and execution of this blog.", "Good design, solid theme in line with the messaging of this DVD.", "Can I give this one a 15? Because it makes all my other 10's look like 5's." and "I loved this company greeting card and in fact thought to myself 'I wish I had done this!'. Very cool, simple concept that is executed well and is a fun, personal way of sending mass, non-personal holiday cards to your multi-cultural client base!" are just some of the comments received from the judges of the the 40th Creativity International Media Competition.
Creativity International received hundreds of entries from all over the globe. Entries represented all facets of Interactive & Media Design - from small Mobile App developers to media powerhouses like MTV. In addition to being featured on the Creativity International website, 40th Media winners are published in the Creativity Awards Annual Book distributed worldwide by HarperCollins Publishers.
Creativity International also announces the introduction of sponsors for the 40th Print Awards. Platinum level sponsors include Yudu Media and Stock Archive and Silver level sponsors include Graphic Authority. "These sponsors will provide a "value-added" dimension to the awards program" states Kathleen Ritchie, Marketing Director, "and we hope to add more sponsors in the future once the idea takes hold." Sponsors are offering software packages and memberships to stock photography sites as Judge's Choice awards.
The 40th Print Competition opens June 1st and the deadline is August 13, 2010.
About Creativity International Awards:
Established in 1970, Creativity Annual Awards is based in Louisville, KY and is one of the longest running independent international advertising and graphic design competitions in the world. A print, web, advertising and media design competition, each year the judges choose the best from all over the world to be reproduced in the 400-page Creativity Awards Annual Book published and distributed by HarperCollins. For more information and to see a list of this year's winners please visit Creativity Annual Awards.
# # #