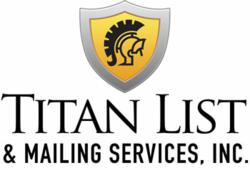 The nature of our business requires diligent business practices...I like to look past the numbers on our data sheets and remember that they correspond with real people
Deerfield Beach, FL (PRWEB) August 22, 2012
Within the last few months, the credit bureau regulatory agencies have been clamping down on data list brokers that are improperly selling credit bureau data. List companies are mandated to acquire this information through specific channels that, if not done correctly, can hurt the list company along with the company that acquired the information. Moreover, if a prospective company is dealing with a list company purchasing data illegally, that company is liable for the data they are obtaining, which is most likely outdated or reused/resold data. Titan List and Mailing Services, a leading direct mail advertising agency with no infractions or BBB complaints, discusses their recent change to implement all 3 credit bureaus in the signup process required for mortgage brokers to legally purchase credit bureau data, and the risks of purchasing data from a non-compliant data list broker.
Mortgage brokers that wish to purchase credit bureau data must go through a signup and approval process. Without getting signed up and approved by the bureaus you cannot legitimately purchase credit driven data. The direct signup process allows a mortgage company to sign up directly with all 3 of the major credit bureaus, and requires a physical inspection of the office. There is a diligent effort put forth to ensure the company purchasing data is credible and has an established history as a lender. This is to hold the company accountable in the event the data is misused.
"We encourage mortgage brokers wishing to purchase credit bureau data for the first time to understand the process and reason for getting signed up and approved" said Justin Restaino, Vice-President of Titan List and Mailing Services. "Once approved, the customer will have access to credit data allowing them to receive the highest quality files that are available for mortgage targeted marketing. It's my estimation that sooner or later, all mortgage brokers will be required to complete a direct signup process in order to maximize their marketing efforts."
While this extremely personal and sensitive consumer information is vital for successful ad campaigns, using it comes at a risk. Not all data lists are created equal.
"The nature of our business requires diligent business practices," said Jared Braverman, Director of Marketing at Titan List and Mailing Services. "First of all, not to sound overly sentimental, but I like to look past the numbers on our data sheets and remember that they correspond with real people—grandmothers, fathers, sisters, brothers. On that basic human level it's important for us to deal with this information lawfully. It's also important for us to provide our clients with accurate and legal data, which requires strict adherence to the credit regulatory agency policies."
Braverman went on to explain that because list companies deal with such sensitive information, there is an intensified level of scrutiny from government agencies, clients, and the people whose information they are dealing. With the levels of examination being so intense, a list company's Internet footprint is very sensitive. Complaints are common. However, if a company's history is good, this can be used as an invaluable asset.
"I often encourage prospective clients to Google us," said Restaino. "We have a clean record because we operate the right way. We don't re-use or re-sell lists. The lists we have are up to date and we acquire them in a compliant fashion. We're an open book. But a lot of our competitors aren't. That's just the truth. They may appear clean, but a little research reveals holes in their façade."
Currently, Titan List has no complaints registered in any of the categories the Better Business Bureau monitors (Advertising/ Sales Issues, Billing/ Collection Issues, Problems with Product/ Service, Delivery Issues, Guarantee? Warranty Issues).
ABOUT TITAN LIST & MAILING SERVICES, INC.
Titan List & Mailing Services is a full service direct marketing agency specializing in direct mail, printing, data lists (mail or phone lists), graphic / web design, and internet marketing / SEO. The company has been in business since 1998, and has a spotless track record and an A+ BBB rating. Titan's team of highly qualified individuals has experience in marketing trends that fit your business. Unlike other agencies that outsource their work, Titan List handles your entire campaign in-house - Data Lists, Design, Printing, Mailing, and Postage - All under one roof
For more information please call or visit:
http://www.TitanLists.com | 800.544.8060