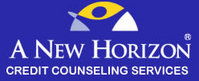 If the consumer does not understand the changes to their credit card agreement, or has unmanageable debt they should speak with one of our individual certified consumer credit counselors who can help
Fort Lauderdale, FL (Vocus) March 8, 2010
A New Horizon Credit Counseling weighs in on the new Credit Card Act and what this will mean to consumers. Consumers may now see a return to annual credit card fees. Although the new Credit Card Law restricts certain fees, such as those charged for surpassing credit limits or paying credit cards late but there are plenty of other charges that remain fair game. Credit Cards may start to ramp up additional fees. For instance, Fifth Third Bank last year began charging some cardholders $19 for not using their cards for 12 months. There is no limit to how high annual percentage rates can go. Some banks have raised interest rates to record levels weeks before the new laws went into effect.
According to CreditCards.com Weekly Credit Card Rate Report the national average interest rate on new credit card offers hit 14.62 percent. This increase in the interest rates was the highest since they started tracking in 2007. Six months ago the average was 12.7% and now it's 14.6%.
Not only are the banks raising rates to restore the profits they might be losing, they have also started changing some of their card products to variable rates from fixed rates. Many of the largest issuers, including Bank of America and Chase, switched their customers over to variable rate cards in 2009.
"The changes brought on by this new legislation are significant, and protective of the consumer, but they are worthless if the card holder fails to read and understand the notices, updates, and credit card offers they are receiving from their creditors daily," warned Steven Stark, General Counsel and COO of A New Horizon Credit Counseling Services in Fort Lauderdale, FL.
Some other things you should know about the new Credit Card Act are:

Late payments before the 60 day window will not increase your interest rates, but it will still show up negatively on your credit report.
Open credit card statements quickly and review them to keep abreast of new terms.
Some of the credit cards may have deadlines that must be met to opt in or out of to get certain terms.
The new Credit Card Act does not cover Business and corporate credit cards.
The Credit Card Act does not cap interest rates. The increased rate can still triple your existing APR.
A rate increase can't be applied to existing balances unless cardholder is delinquent.
Cardholders must be notified of a rate increase 45 days in advance, but there is no cap on rates.
Those under 21 can't apply for a credit card unless they have a co-signer, sufficient income or show proof that they have an independent means to repay the card debt themselves.
With banks trying to use every loophole they can find to help their bottom lines, it will be the consumer who will still suffer. If interest rates have already increased and annual fees are reinstated, how will the consumers get themselves out of the financial hole they may be in?
"If the consumer does not understand the changes to their credit card agreement, or has unmanageable debt they should speak with one of our individual certified consumer credit counselors who can help," added Mr. Stark.
A New Horizon Credit Counseling, a well established Credit Counseling company with over 15 years experience as a non-profit organization assisting individuals and families from all walks of life in both maintaining control and regaining control of their finances. Credit Counseling may be the solution and help with Debt Management, Budget Management and Debt Consolidation. This is all offered in the strictest of confidence by certified financial counselors. Contact Stuart Lieberman who may be reached at (800) 556-1548 Extension 1126 A New Horizon – http://www.anewhorizon.org for more information
###