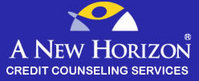 We've seen an increase in the amount of disabled clients with a severe financial hardship. It seems to correlate with the downturn in the economy
Fort Lauderdale, FL (Vocus) June 28, 2010
Ft. Lauderdale, FL – The Americans with Disabilities Act, which helped ensure equal rights for the disabled, will be celebrating its 20th anniversary this July. This milestone civil rights act made certain types of discrimination based upon disability illegal. According to A New Horizon Credit Counseling, a nonprofit credit counseling agency, disabled Americans are struggling with a new challenge – debt.
Becoming disabled can destroy a family's financial well being. An abrupt decline in income due to disability can be matched with a steep rise in expenses. According to the U.S. Census Bureau, the median income for non-disabled Americans is $25,000 per year. The median income for those with a severe disability is just $12,800 per year.
The resulting debt is often devastating for families, comments Stephen D. Marcus, President and CEO of A New Horizon Credit Counseling. "We've seen an increase in the amount of disabled clients with a severe financial hardship. It seems to correlate with the downturn in the economy," says Marcus.
In response, A New Horizon Credit Counseling has begun to offer a free budget analysis and, if appropriate for their circumstances, free enrollment in a credit counseling program for the disabled. This new program, which will coincide with and commemorate the anniversary of the Act, is designed to help soften the blow of financial hardship that often accompanies disability. A New Horizon Credit Counseling works with clients' creditors to reduce their payments and repay their debt in full while providing financial counseling to help them manage their money and avoid debt in the future.
According to the American Medical Association, the number of disabled is expected to rise in the coming years. That number already stands at about one in seven, more than 14% of Americans. Many experts recommend having a financial emergency plan in place to deal with a loss of income. "Proper planning, saving, and spending habits are crucial," says Marcus.
A New Horizon Credit Counseling Services is a nonprofit credit counseling organization that has been helping consumers since 1978. For more information about their programs, contact 1-800-556-1548. They can also be found on the web at http://www.anewhorizon.org.
###