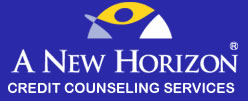 Marcus noted that his organization is "concerned that so many consumers have just given up on their finances and started ignoring their bills. Our program can really help people avoid that pitfall."
Fort Lauderdale, FL (PRWEB) July 20, 2011
With June unemployment numbers ticking up to 9.2% and the nation's economic recovery slowing to a crawl, the nonprofit debt management firm A New Horizon Credit Counseling is taking unprecedented steps to alleviate consumer debt. The organization is enrolling clients for free – and giving them $100 just for joining.
Citing recent disappointing economic indicators, A New Horizon Credit Counseling has instituted its new "Win-Win Program," this program has been up for a little over a week and the response has been nothing but spectacular. The Win-Win Program not only allows clients to join for free, but also pays them $100 to get started on the road to their own financial recovery. Stephen Marcus, President of A New Horizon, stated that his organization's new "Win-Win Program" has been doing great since we started it.
"With so many people struggling to pay their bills every month," said Marcus, "our new program can help to put them on the path to financial freedom." The program, which rewards new clients with $100 to join, will be offered for a limited time and is intended to provide assistance to people suffering from the sluggish economic recovery.
Marcus, whose organization also provides financial literacy and credit counseling services, hopes that the new program will attract consumers who may have been ignoring their finances. Marcus noted that his organization is "concerned that so many consumers have just given up on their finances and started ignoring their bills. Our program can really help people avoid that pitfall."
A New Horizon Credit Counseling Services is a nonprofit debt consolidation organization that has been helping consumers since 1978. For more information about their programs, contact 1-800-556-1548. They can also be found on the web at http://www.anewhorizon.org, or reached via email at slieberman(at)anewhorizon(dot)org
###