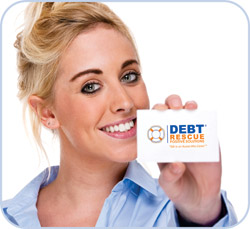 It is important to seek professional help and take positive steps to address debt stress before it gets out of hand
(PRWEB) July 25, 2012
"Australians' obsessive relationship with personal and credit card debt is becoming toxic to their emotional and psychological wellbeing", says Debt Rescue expert Rachael Witton.
As they struggle to pay their bills and just break even at the end of the month, many Australians burdened with debt suffer from low self-esteem, isolation, anxiety and other psychological issues.
That was the finding of an online survey that one of Australia's leading personal debt management companies, Debt Rescue, conducted among its clients.
Sixty-eight percent of the people surveyed said they are dealing with debt stress.
That stress takes the form of more than worry about finances and losing property, said Debt Rescue Operations Manager Rachael Witton.
People struggling with debt worry most about how they are letting down others, and that worry, in turn, saps away energy and time that people could direct into their relationships.
"Debt isn't just about owing other people money. It's about what people owe to their families, their friends, their partners and themselves," Ms Witton said.
The survey results chronicle the long-term health problems faced by people under the burden of debt.
Two-thirds of survey participants said their debt had caused depression and that they had felt anxious about it, while 83 percent said their level of debt had made them experience stress.
A majority said that debt had interfered with their personal lives and become an issue in an intimate relationship.
"Often people don't realise this until they hit the lowest of lows, so it is important to seek professional help and take positive steps to help debt stress before it gets out of hand," Ms Witton said.
Hounded by creditors and aggressive debt collectors, though, people often feel that help is hard to find, she said.
More than half of the survey respondents said they had trouble finding professional help with debt. Eighty-six percent said they wanted help not just with the financial side of debt, but also with dealing with its emotional and psychological strain.
"These results tell us that Australians have an unhealthy relationship with debt, but the good news is there is help at hand," Ms Witton said.
She said Debt Rescue provides clients with concrete, effective actions they can take to reduce their debt and bring it under control.
Debt Rescue staffers help clients create a budget, consolidate their debt and reach a formal or informal debt agreement with creditors. If necessary, they will help Debt Rescue customers through declaring bankruptcy and crafting a personal insolvency agreement.
"The important thing to remember is that there is light at the end of the tunnel for those who take positive steps towards dealing with their individual debt situation," Ms Witton said.
Anybody experiencing problems with debt can contact Debt Rescue toll free on 1800 00 3328.
For further information visit http://www.debtrescue.com.au