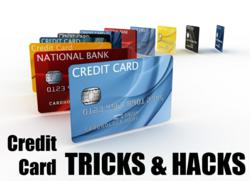 With some of these sneaky — and legal — credit maneuvers, you can 'hack' your credit card to better, bigger, wealthier savings.
EL SEGUNDO, CA (PRWEB) April 25, 2013
Sixty percent of cardholders have at least one rewards credit card, according to a report from the Federal Reserve Bank of Boston. However, between high credit card rates, transaction fees and yearly costs, even the best credit card rewards may still not make up the difference.
"There are ways to win the processing fee war and use credit card rewards to your advantage," says Paul Sisolak, expert contributor for GoBankingRates. A new report from the leading personal finance resource outlines five credit card hacks that consumers can use to save money in sneaky and surprising ways.
"In this case, a 'hack' is a loophole — a sneaky strategy, if you will — in your credit card that allows you to get the most out of the rewards and savings they provide," explains Mr. Sisolak. "With some of these sneaky — and legal — credit maneuvers, you can 'hack' your credit card to a better, bigger, wealthier savings."
With the credit card hacks included in the report, GoBankingRates outlines how to get deeper discounts at popular retailers like Apple and Best Buy, pay zero-percent interest on credit card debt, and take greater advantage of travel rewards like car rental insurance. Mr. Sisolak also points consumers to the specific rewards cards that are most likely to offer these hidden benefits.
To view the complete guide to credit card hacks click here.
For questions about this report or to schedule an interview with a GoBankingRates editor, please use the contact information below.
About GoBankingRates
GoBankingRates.com is a national website dedicated to connecting readers with the best interest rates on financial services nationwide, as well as informative personal finance content, news and tools. GoBankingRates collects interest rate information from more than 4,000 U.S. banks and credit unions, making it the only online rates aggregator with the ability to provide the most comprehensive and authentic local interest rate information.
Contact:
Jaime Catmull, Director of Public Relations
GoBankingRates.com
JaimeC(at)GoBankingRates(dot)com
310.297.9233 x261
###
Source:
Federal Reserve Bank of Boston, "Consumer Payment Choice: A Central Bank Perspective," 2010.