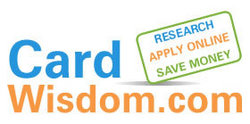 The best credit card for consumers to use during the holidays is the one that will save them the most money.
Norwalk, CT (PRWEB) November 3, 2010
With the holidays approaching, it is important for consumers intending to shop with credit cards to consider options that can help them minimize interest expenses or increase their savings via credit card rewards programs. At CardWisdom.com, we have created two quick guides to help consumers benefit from credit card offers during the holidays.
Our Holiday Guide to 0% Credit Cards focuses on minimizing credit card interest expenses. Consumers who plan to take on new credit card debt that will not be repaid immediately should strongly consider applying for a credit card with a 0% introductory rate on purchases. At present, there are a number of 0% APR credit cards available from Citibank, Discover, and other major banks that charge no interest for up to 1 year on new purchases.
With a 0% APR credit card, it is possible to sharply reduce interest expenses and decrease the time it takes to pay-off credit card debt. However, it is advisable for consumers to create budgets that enable them to repay this new debt before the 0% introductory period ends. For example, consumers who take on $1,000 of new credit card debt during the holidays should plan on paying $100 a month for the next ten months to eliminate credit card debt before the standard interest rate takes effect.
CardWisdom's Holiday Guide to Credit Card Rewards focuses on credit card promotions. A number of credit card companies are offering special credit card rewards incentives that provide cash back bonuses as well as up to 5% cash back on new purchases. Chase is currently running a promotion with its Chase Freedom Visa - $100 Bonus Cash Back that gives new applicants who spend $799 within three months $100 in cash back.
Discover is running a similar promotion with the Discover More Card - $100 Cashback Bonus card. With this offer, consumers simply need to spend $500 in order to earn $100 in cash back. This offer also comes with a 0% introductory interest rate that lasts six months.
In addition to these particular offers, there are a number of credit cards that are offering both 0% interest rates on new purchases and the opportunity to earn as much as 5% in cash back on those purchases. By taking advantage of these deals, consumers can not only reduce interest costs, but also offset expenses with rewards.
Ultimately, the best credit card for consumers to use during the holidays is one that will save them the most money. Consumers taking on new debt should avoid using credit cards with a high interest rate; instead, they should use ones with a 0% introductory rate. Lastly, consumers who want to save money while shopping should consider a rewards credit card that will put extra money in their pockets via cash back promotions.
For additional information, please see http://www.cardwisdom.com
About CardWisdom
Cardwisdom.com is a Credit Card Depot Inc website that was designed to help consumers learn about credit card offers. Its founder and CEO, Jeffrey Weber, is a consumer advocate and six year veteran of the credit card history. At Card Wisdom, he provides consumers with detailed information on the rates, fees, and rewards programs of approximately 100 credit cards as well as in-depth articles designed to help consumers understand the complexities of credit card applications and avoid bad credit card offers.
# # #