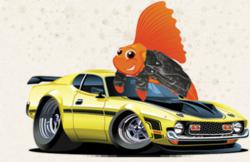 Using credit cards to pay for these sorts of things, provided you can and will pay them off monthly, is wise because it establishes good credit.
Atlanta, GA (PRWEB) December 13, 2012
RoadFish.com men's lifestyle and finance magazine today issued their observations surrounding a recent Taylors-Wade Hampton Patch article highlighting some credit card no-no's shared by credit counseling organization, CredAbility. RoadFish.com has been encouraging shoppers to mind their credit and personal finances for weeks leading up to the winter holidays, and today urged its readers to seek the recommendations of professional debt management organizations such as CredAbility.
Andrew Moore of South Carolina publication Taylors-Wade Hampton Patch recently reported that though credit cards can be incredibly helpful for building up good consumer credit if used properly, the holidays are a time when many consumers turn to the plastic more recklessly and can do some serious damage to their credit as a result. Moore shares some tips from credit counseling and debt management organization, CredAbility, who outlined the five most common errors that consumers tend to make with their credit cards whilst holiday shopping.
Moore's article states that spending new credit cards as though it was "free money" is one of the worst things consumers can do, because accruing debt only costs more money if the spender cannot pay it off quickly. CredAbility recommends transferring the funds online from checking to credit in order to pay off credit card balances immediately after a purchase. CredAbility's community development officer, Brent Bishop, is quoted as saying, "Credit cards provide a great opportunity for consumers to establish and build solid credit history. Avoid accruing debt you can't afford to pay off quickly."
RoadFish.com recommends only using credit cards when there is or will be money in the checking account to pay off the card by the end of the next month. RoadFish.com's Senior staff writer is quoted as saying, "I think that people get excited with credit cards, because they often view it as a way to purchase things they can't actually afford. In my opinion that's pretty much the worst way to view a credit card, and I don't recommend using them that way. Otherwise, you're left with a huge balance to pay off plus I'm guessing some pretty significant interest. Not to mention the more you chip away at your available credit limit, the worse it is for your credit score because 30% of your score is factored by looking at the used versus available credit ratio."
Moore's articles states that CredAbility discourages charging things such as groceries and gas to a credit card if the balance is being carried long after the food and gas have been consumed. RoadFish.com agrees with this statement but likes the approach of using credit for everyday purchases that would need to be bought anyway, if the cardholder can pay them off in full. RoadFish.com's Senior staff writer is quoted as saying, "Purchases like gas, utilities and groceries are essentials for most people, things we're going to spend money on each month consistently. Using credit cards to pay for these sorts of things, provided you can and will pay them off monthly, is wise because it establishes good credit. It's completely the opposite of making a big purchase that you wouldn't normally, just because the credit limit enables you to. That is where you'll run into trouble."
According to the above-mentioned article, CredAbility also discourages consumers from paying off a credit card, and then promptly closing that account. The logic is that once a credit card is paid off, the ratio of debt to available credit is superb, and it will reflect on a consumer's credit score. Closing the account, however, takes away the opportunity for that boost. Not to mention that older accounts hold weight with credit scores, because of the longevity of the account.
RoadFish.com reminds consumers that there are many tools available these days designed to aid them in staying on financial track. Personal financial software and free apps like Mint.com, Ace Budget, and Debt Tracker Pro can help consumers stay on top of spending and debt. And devices like Score Planner credit score simulator, and Credit.com's Credit Score Calculator, are ways for consumers to track their credit scores, and even learn how changes to their credit card accounts can have an impact on scores.
About RoadFish.com
RoadFish.com is a men's lifestyle and finance magazine that features regular articles about hot chicks, dating, travel destinations, and restaurant reviews. It is an online publication aimed at male readers in their 30's and 40's who are self-motivated and looking to achieve their next big goal. RoadFish.com's advice about women includes top dating websites, and financial tips revolve around building up credit scores and budgeting. RoadFish.com is owned and operated by Purpose, Inc.